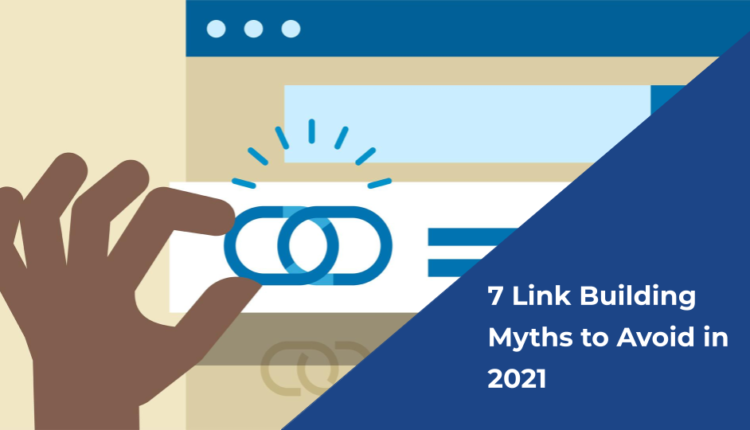 7 Link Building Myths to Avoid in 2021
Learn about what to avoid when conducting your link building campaign
Nowadays, many of us decide to turn to what is available on the internet to gain knowledge about anything we encounter in our lives. It is no different for those who want to know how to do search engine organization (SEO) for their website.
To conduct a great SEO strategy and improve your ranking, you will find that you need to look at a number of different aspects of your website. Among them is the number of quality links directing to your website.
To get as many high-quality links to your content as you can, you need to start link building. This will help your website rank higher on the search engine result page.
There is a lot of amazing knowledge accessible on the world wide web about link building, but there are just as many myths circulating about it as well. To help you not fall for some of these lies, I will disprove 7 of them in this article.
1. Links That Are Irrelevant To Your Niche Are Worthless
While, in general, you would not want links from pages that have nothing to do with your content, discounting irrelevant links could lead to missed opportunities. Whether these sites feature you because of your content or other reasons, linking helps you gain more traffic to your website.
Many think that to get a better SEO rank, you need to get the top blogs and news sites linking to your pages. However, getting backlinks from them might be difficult to attain. One of the best ways to catch the attention of any of these sites is to publish high-quality content on your website.
While getting backlinks from top sites could help you with being exposed to a larger audience, Google does not look at the relevance of the pages linking to your site. If you improve your SEO with link building and your page receives backlinks from credible sites, it will help your website rank higher.
2. Backlinks Are One A Must For High Ranking On Google
Search engine organization can be a meticulous task, and it is something that you need to consider when managing a website. It will take a lot of time and creativity; you won't be able to rank first for your chosen keywords from one day to another as you start doing your SEO.
Backlinks are important, but lately, Google has changed its ranking formula because of some questionable, manipulative SEO tactics that were used to spam the first pages of search engines. Because of this change, a lot of the backlinks lost their credibility.
Google does not put as big of an emphasis on backlinks as it used to, but there are a lot of other aspects viewed to determine who ranks higher on the SERP.
Google's algorithm that gives a score to your site focuses on 200 important ranking factors, such as:
Content Quality
Content Richness
Content-Length
Page Loading Speed
Click-through-rate
Optimization for mobile
Backlinks and link building are still relevant, but it is not the most important factor that you need to focus on while conducting your SEO. You need to consider and try to improve for as many ranking points as you can.
3. Sending As Many Emails As You Can
Nowadays, you can easily conduct the best link building campaign for your website. It is easier than ever to find anyone's contact information online.
However, many think that one email template will work just fine for all outreach to bloggers and websites you want to ask to feature your link. In reality, it is not the case at all.
To get the most positive responses while doing your link building, you need to change your emails and make them personalized for those you are sending them to. Taking some time and making sure that what you send will resonate with the reader will help make the connection you need.
Sending out hundreds of emails without changing anything will just make you end up in the spam folder. To make sure this does not happen, decrease the quantity, and increase the quality of your emails.
4. Google's Penguin Penalty
Search engines use different algorithms for different reasons, one of these reasons is to rank the quality of the links from one page to another.
Following in the footsteps of one of the first link checking search filter, Google's Panda, which was added in February 2011, is Google's Penguin, the newer, updated version of it.
These real-time algorithms ensure that the search engine's top results are not filled with poor quality sites that manipulated their rank with keyword stuffing or artificial link networks. They make sure that the highest-ranking sites are genuinely the best rated in the different ranking factors.
To rank high without running into problems with any of these algorithms, you can conduct a website analysis to see what can and should be improved to get a higher SEO ranking.
After conducting an analysis, you can make sure you concentrate on what really needs to be fixed and not even considering some type of spamming technique.
5. High Link Velocity Contributes To Penalties
This link building myth might have been born when Google introduced Google Panda, as a lot of pages that were trying to spam their content got penalized.
Many people still believe that a high amount of link building to one piece of content would be viewed as spamming and lead to a possible penalty. This link building myth is going against the base concept of SEO.
If a high linkage amount could negatively impact your ranking, it would mean that there would be conflicting SEO ideas. If you have great and informative content and many people choose to link to it, then it should be awarded and not at all considered spamming.
Search engines do not view your content as spam just because you have a high number of linkage, but it can consider it spamming if those links come from low-quality networks. These, in general, are only problems for sites that use artificial linking networks.
6. Internal Links Don't Help Your Ranking
High-quality links from other websites are important to increase your ranking, but internal linking can also help you raise your rank.
Every website exercises internal linking, and there is a good reason for it. Linking from higher-ranked pages to lower ranks on your own website can help to boost the weaker pages.
To optimize your internal link building structure, you have to focus on your users. You need to consider where and what should be linked on your page.
Visitors expect easy to access pages with quick links to them. They usually start out on your most visited page, your homepage, and there is where most of your links should be.
To know where your users would expect to have a button or a link, you can use a click heatmap. It will show you what people are doing with their cursor while on your site, what they hover over, and where they are trying to click.
With this knowledge, you can easily add new links to different landing pages on the places that attract most of the attention. These little, but necessary changes to your website design will help with your click-through rate and conversions.
7. Link Building Is Irrelevant If You Rank High
Link building, like any other digital marketing strategy, should be consistent and not forgotten about. Many think it is not important at all, but it is if you wish to aim high on SEO ranking.
To keep your site and brand visible all across the internet, you need pages linking to you and making you as relevant as possible. It helps you reach and maintain a higher position than your competition.
As the number of links to your site grows, it increases website traffic on your page as well. However, link building is not only about the number of visits to your site, but also about the possible new customers you get exposed to.
Conclusion
To make sure that you do the best you can with your link building, you should always research and build it on facts from trusted sources. There are a huge number of myths you can come across that you should steer clear of.
A lot of digital marketing companies offer link building services for those that have no time doing their own. And for those that do not want to spend much money on it, there are great credible guides and tools available online to start out.
While you use link building to improve your website's ranking, you also need to do several other things to really boost your SEO. There are a number of possible reasons your page does not have a high rank in search engines, let it be user engagement, the freshness of content, or keywords on a page.
In order to find out and to pinpoint what you should consider changing on your site to improve it, you can use a website checker. These test your pages and conduct a website analysis for you. After seeing the result, you can focus on correcting the areas where your webpage is doing poorly at.