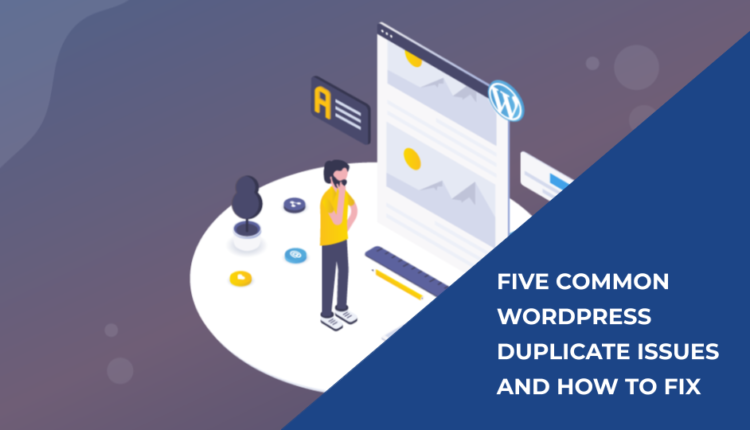 Five Common WordPress Duplicate Content Issues & How to Fix
Content is king, and the best way to rank your WordPress website higher is to avoid duplication as well as errors
Plagiarism which is also known as content duplication is a common problem that exists in the digital world. Duplicate content is known to be the biggest problem when it comes to the ranking of WordPress websites. In this short source, you are going to learn about the top five plagiarism issues in the WordPress world and how you can fix them without any trouble.
WordPress is what provides ease to small business platforms. If you want to digitize your business, start a new website, create a new page, or even a new blog, the WordPress website would be at your service where you need it. This platform has practically everything that you need to make it perfect. Now when it comes down to content duplication, there are five commonly known issues that can be fixed. Below we have discussed these common duplication issues and have also provided some tips so that you can solve them.
Duplicate content issues
Consider these issues and their solutions so that you can get rid of them once and for all.
Meta tags
Tags are one of the biggest problems for a WordPress website or page. When you add a tag to an article, it will create a new page that would have other relative content. The page will start to feature some snippets from articles. The exciting thing that one should know is that if a tag is the same as any other category that exists on the core of your website then you must know that it would result in self-competition which is not suitable for your site.
Tags are the modified versions of themselves, and this why the problem of similar or duplicate content is created. This results in the devaluation of the website. You can quickly get to know about these tags if you use a plagiarism checker and can get rid of them accordingly.
Categories
Many of us tend to make websites or pages that have subcategories in them. These categories can contain different content and different heading tags, but you should know that often a website with various categorized content is considered a lost cause. People usually don't get answers to their queries in these types of contents. This is the reason that this kind of content is also known as thin content. Plagiarism is very commonly made from these websites as they are less likely to be visited by the traffic. This problem can also be solved if you check plagiarism with a reputed website.
Competing topics
You can take the example of services or products in this regard. Most WordPress websites that have competing topics or niche have duplicate content on them. This is major because the generic descriptions of these topics are the same. You can look at food blogging sites and pages. All of these sites and the recipes on them would also be the same. In this scene, you have to make sure that you are paraphrasing the content in the right way so that it looks unique. You might need help from a plagiarism checking program.
Duplicate images
Duplicate images are another common factor that one sees in WordPress websites. You must know that duplicate images have the same adverse effects as textual content, but especially in blogging, people avoid designing and posting unique images. Image duplication can have a nasty effect on the seo score of your site, especially if you get reported by the owner of the image. You can use reverse image search tools to find the most relative images for your content.
Textual plagiarism
The last and most unethical common factor in our list today is the intentional or unintentional plagiarism of text. Usually, people think that duplicate publishing content is acceptable just because the search engine would accept it. Well, there is no doubt about the acceptance or indexing of duplicate content, but you should not deny the fact that a plagiarized content would never reach the top ranks no matter how hard you try to optimize your content. You have to take help from plagiarism checker tools which are capable of detecting unintentional or accidental plagiarism as well.
Best plagiarism checker tool for finding duplication
There are many plagiarism checkers available online, but not all of them can provide accurate results. You have to look for a plagiarism detector that is both free and reliable in its working. The online plagiarism checker by SearchEngineReports.net is one of the best tool in this regard. You can use this plagiarism tool for free plus check complete websites by URL input methods with this copyright checker. Duplichecker can also help you check plagiarism on your WordPress website. You can add it on while creating content and remove plagiarized content before you publish it.