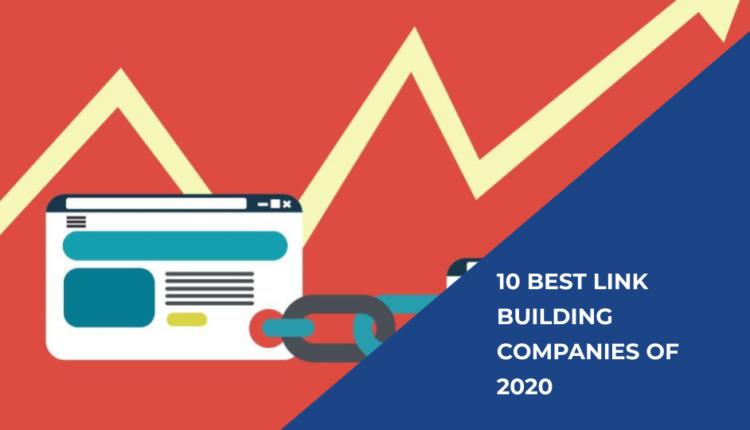 10 Best Link Building Companies of 2020
Find Out Which Companies Will Make Your Links the Most Efficient
Before we jump into the practical part, let's define backlinks and what makes link building so important for our SEO.
If the word "backlink" doesn't ring a bell, you might be familiar with terms like inbound link, incoming link, or citation. They refer to the same thing, but for the sake of consistency, the word "backlink" will be used in this article.
A backlink is a reference in the shape of a link (the word is "back link", after all). This means that another website has a link that leads to your page. Backlinks express acknowledgment in another creator's content and it adds authority to your content in the eyes of Google.
Why are backlinks important?
If used correctly, backlinks can make a huge positive impact on your SEO rating, as backlinks are some of the most important indicators Google uses to determine how high in the search results your page belongs.
Naturally, a high appearance in the search results will bring more organic traffic to your website. However, before you go berserk with backlinks, you must be aware that not just any kind of backlinks will do.
In other words, Google has conditions:
Quantity. The more backlinks you have, the better chances you get to be among the highest search results. However, the quantity condition goes hand in hand with the next condition (Spoiler Alert: Quality). If you focus on quantity alone, Google will remember you as a "spammy" page. Neither Google nor searchers find websites full of spam enjoyable, so make sure that your website is not considered to be one.
Quality. You might be wondering what quality means in this case. One word for it would be relevance. Google will acknowledge the quality of your content if your backlinks are connected to high authority websites that are similar to yours or the same. To put it simply, if you write a blog about pet care, it wouldn't make much sense to backlink to another website that creates content about car engineering (unless it's about engineering for pets!).
As you probably realized now, backlinks are extremely important for your business, but it can only bring you the best results if it's done right. Although it might sound like an easy thing to do, there's more going on behind the scenes that make it complex.
That is why you need competent link building companies (or reliable backlink checker tools) that can save you time and money, as well as bring in more customers, more traffic and improve your brand awareness.
Without further ado, here are the 10 best link building companies that will make your backlinks flourish!
1. Page One Power
Page One Power is an agile, experienced, up-to-date, and knowledgeable company that specializes in the Resource Link Building and Content Link Building – both highly effective strategies.
With Page One Power you don't need to be worried if the link building strategies will be relevant to your industry and specifically to your business.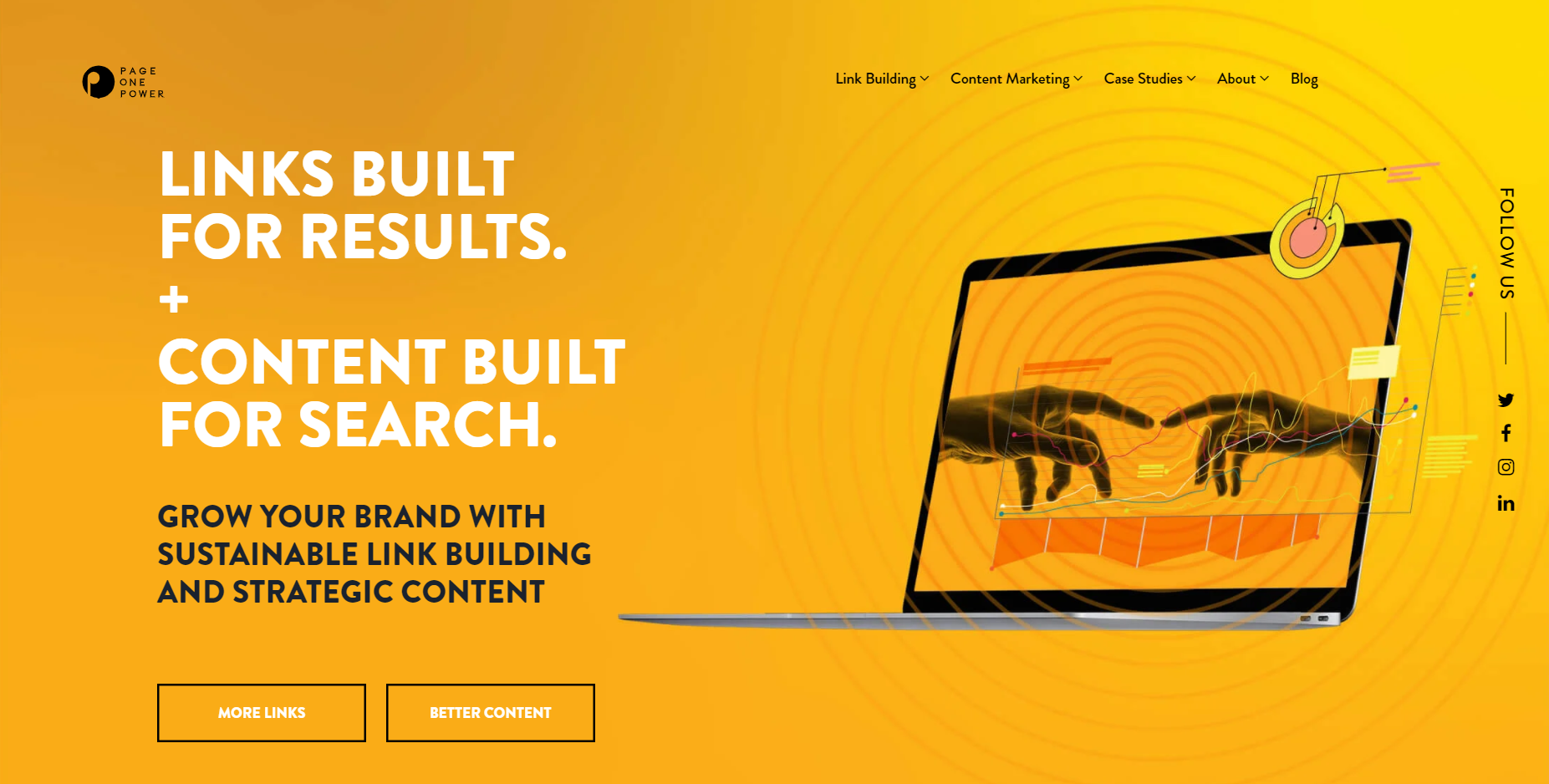 Page One Power has been operating for 10 years now, during which they collaborated with over 982 customers from various industries.
Moreover, Page One promises to keep your goals a priority. Your company will be assigned a project manager who will be responsible for transparent communication, reporting the work progress and link building integration into your whole SEO campaign.
Finally, Page One Power doesn't wish to bind you with a long-term contract. Although their goal is to achieve long-term results for you, only a 3-month contract is required with an option to extend it. Flexible, right?
2. FATJOE
FATJOE is another safe bet in 2020 as a link building company. The company specializes in Blogger Outreach, which creates great opportunities for you to network with high Domain Authority (DA) bloggers that can spread the word about your business and expand your audience.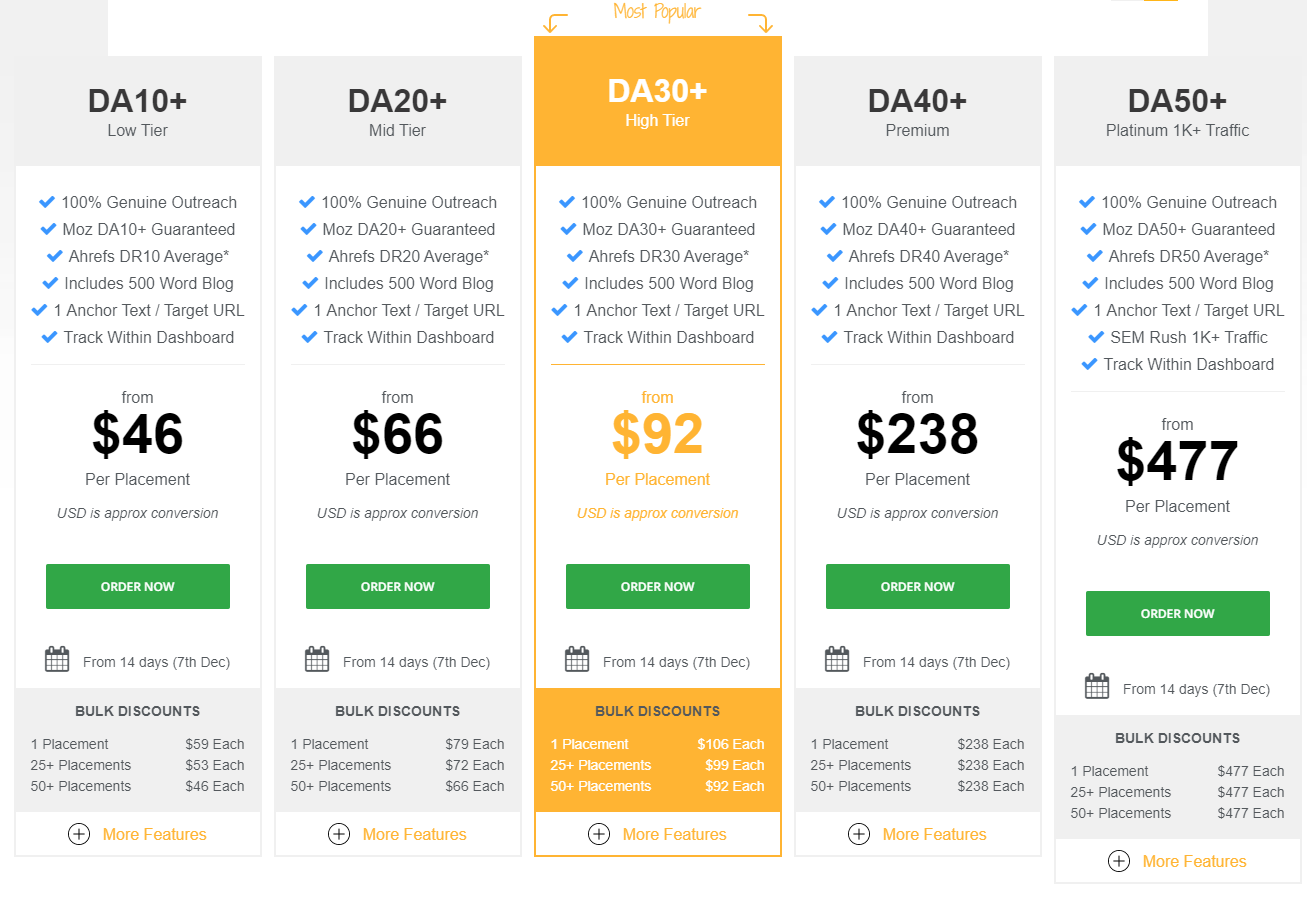 FATJOE connects you with only relevant high authority bloggers that produce the perfect content for their audience, as well as yours, one might call it a win-win.
Like the before-mentioned Page One Power, FATJOE will make sure that you receive personal care and evaluation.  Moreover, the agency will keep a confidential history of your orders to make sure that there are no duplicates per domain (Google can't stand duplicates!).
Finally, the agency will provide you with spectacular customer service and fast response rates. FATJOE claims that 90% of customer emails are answered within a few hours. If you doubt their statement, the 4.9-star rating should serve as a confirmation!
3. Stellar SEO
Stellar SEO points out that in order to achieve the best results, during the work progress they will be focusing our the strengths of your company and industry. Besides research, strategic planning, blogger outreach, and link acquisition, Stellar SEO will also spend time on your competitive analysis.

However, the company emphasizes that its services will very much depend on your individual needs and could require a different link building strategy.
More specifically, some of the links that Stellar SEO can offer their expertise with (depending on your needs) are Editorial Links on Niche Sites, HARO (Press) Source Link Acquisition, Resource Page Outreach Links, Broken Link Reclamation, Skyscraper Link Outreach, Select Submission Based Links (Citations, Industry Associations, etc.) and many more.
4. Digital Current
Digital Current has been building links for 13 years. The company emphasizes that you will be in good hands with them, as in 13 years they have worked with various industries, companies of all sizes and built many lasting relationships.

The company guarantees a smooth flow of communication, weekly reports, and a high success rate when it comes to increased website traffic, brand awareness, and search result ranking on Google.
Digital Current names influencer engagement, publisher outreach, content marketing, visual graphic creation, and promotion as some of the measures for your success.
5. Higher Visibility
Why is Higher Visibility in this list? Because Higher Visibility is the most awarded SEO agency of 2020 and the title speaks for itself. It would be a disservice to not include Higher Visibility as a link building company!

So what makes it so special?
Higher Visibility is strongly focused on building link authority. The company has a great network of webmasters, bloggers, and journalists who publicize relevant content.
In addition to that, the company claims that they have superior methods and techniques to identify quality links and generate them for their clients.
Finally, Higher Visibility is eager and motivated to produce the best results possible. It does have a reputation to uphold, after all!
6. The Upper Ranks
Like the other best link building companies, the Upper Ranks is an ambitious link building company that works hard for the success of their customers – high domain authority and relevance (also, NO SPAM).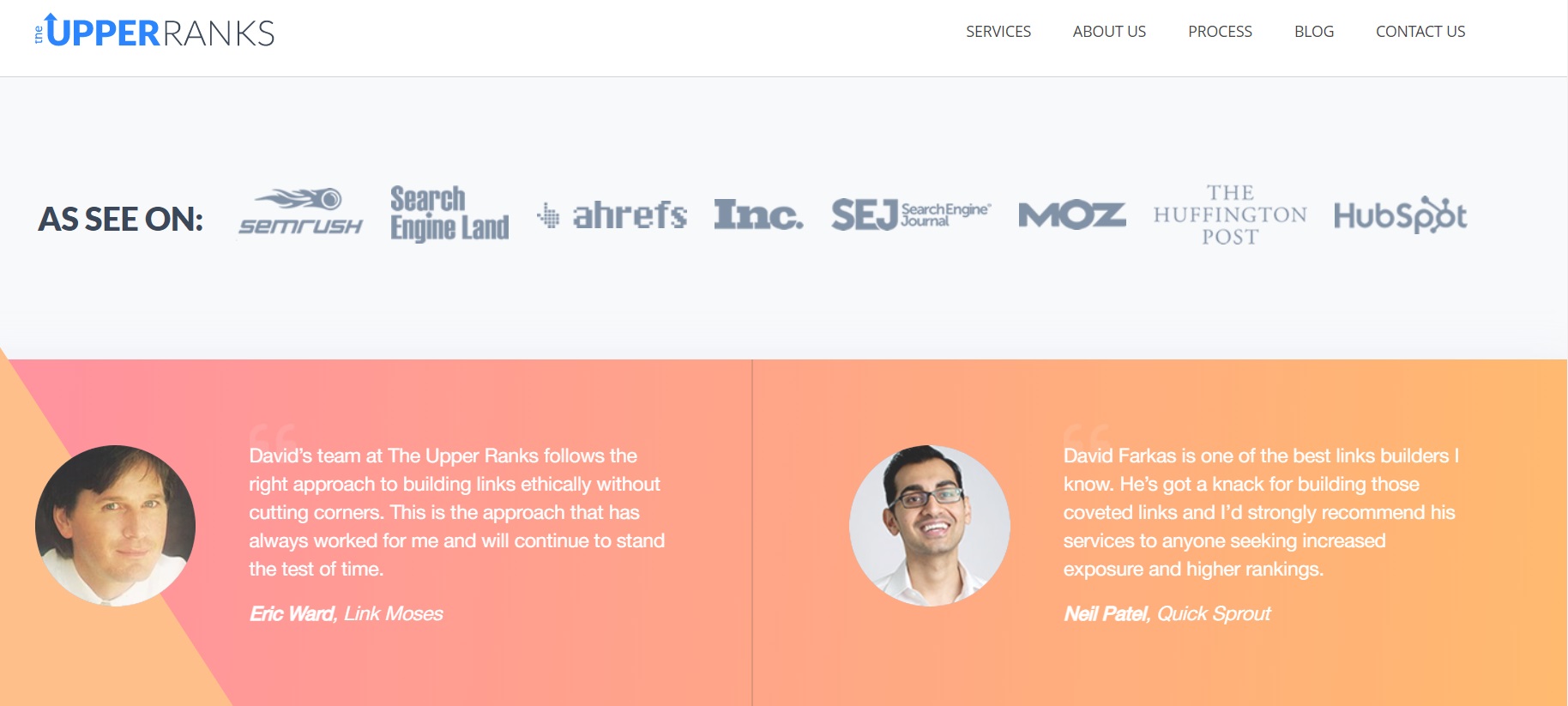 In fact, you might have heard of some of their partners. The Huffington Post, HubSpot, Ahrefs, and SEMrush are some of them, which definitely adds credibility and trust in their work.
But first things first! The link building efforts will be wasted if an agency knows nothing about their client. While Page One Power offers the company's vast experience in dealing with many different industries and partners, The Upper Ranks is determined to research everything they can: your business, industry, website, and even competitors.
Speaking of competitors… The Upper Ranks can lend you a hand with more than just a competitor analysis – they can also get the websites to use your link instead of your competitor's.
7. Rhino Rank
Rhino Rank is an expert in curated link building. In short, curated link-building is placing links in posts that have already been made and gained trust from Google.
This means that Rhino Rank looks for relevant existent pages and posts, where they place the links from their customers.
The work from the agency's side is manual and applied specifically for your company and industry. This also allows them to handle any volume and guarantees very personal service. Not to mention that Rhino Rank give you complete freedom over your links, makes sure that the links are in the most authoritative websites, and provides you with a full report of progress.
The price of curated links starts from $35.
8. Siege Media
Siege Media has worked with impressive brands that most people know about. TripAdvisor, Business Insider and Airbnb are just a few names from the list of achievements.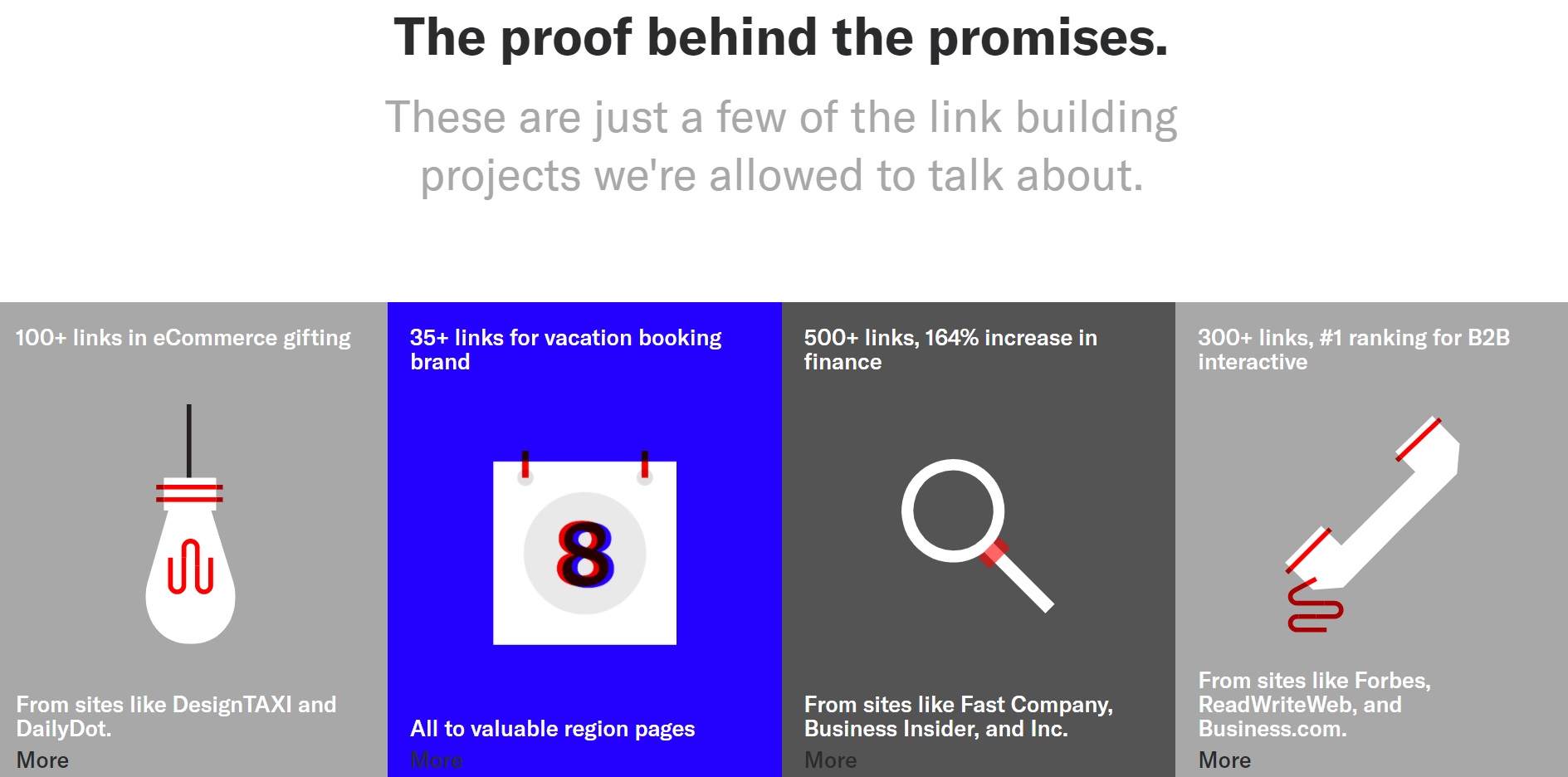 What makes Siege Media so appealing?
As the link building company claims, their promotion techniques are "Persistent, but polite". Is that it? No. The company openly reveals that they have a close relationship ("first-name basis") with the crucial people: editors, journalists and webmasters.  Also, Siege Media doesn't aim for a short-term sensation, but for long-term achievements.
Seeing the spectacular results that Siege Media accomplished for their customers, who could deny the effectiveness of their methods?
9. Sure Oak
Sure Oak is a very much relationship-based company and it's clear that it's one of the main strengths that make the company successful.

Sure Oak offers to connect you with their friends in the industry relevant to your business. As you might have figured already, the service is more than a regular link building, it's also about sharing friendships and contacts.
Moreover, like every other link building company mentioned in this article, Sure Oak recognizes the importance of understanding your business and industry individually, as one size can't fit everyone.
10. Screaming Frog
It's no secret that Screaming Frog takes link building seriously – the agency offers services of a diverse team that consists of marketers, PR specialists, designers and developers. The whole process is covered!
If you want your content to stand out in a bold and confident manner, Screaming Frog will be a perfect choice – your audience will definitely hear that scream!
The Frog team stands out from the other agencies in this article because it offers something extra: helping you to define your link building objectives and key audience. Naturally, strategy development, PR and outreach are not forgotten!
To sum up
By the end of this article it becomes crystal clear what the best link building companies have in common:
They choose personal service rather than the same custom strategy for all clients
They have zero tolerance for spam
Their end-goal is authoritative and relevant websites
All of them are ambitious and seek the best results for you, their customer
These are the factors that make them the best link building companies in 2020, the year when businesses cannot afford to be careless about their SEO (backlinks included) efforts.
If you are interested in link building services, don't hesitate to contact the listed companies, discuss your options with them, and settle for the one that fits YOUR business best!
Happy linking!