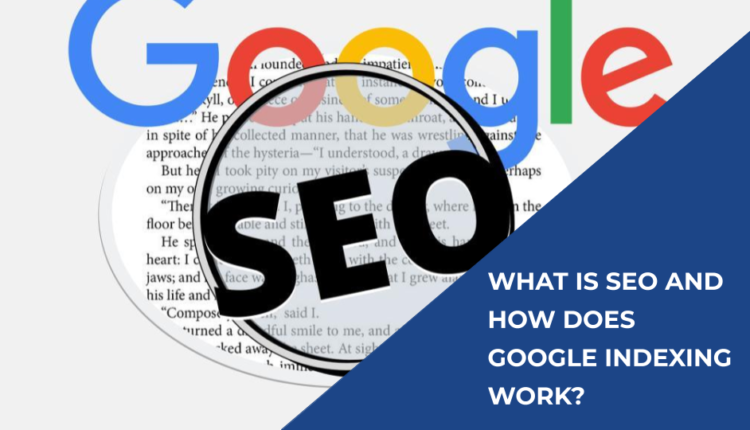 What is SEO and How Does Google Indexing Works for Your Brand?
Have you ever wondered how Google indexes webpages?
Nowadays, everyone uses Google to search or access any kind of information they need. Digitalization is knocking on every door by reminding us that the online world takes over every home or mind.
Moreover, many companies use certain methods to boost the traffic to their websites and improve their business performance.
So, how can you do the same and stand out from your competition? By reading on. In this article, you will learn: 
How to get Google to index your site?

What is the importance of website indexing?

What is crawling and indexing in SEO?

What is SEO and how does it work for the business?
How to Get Google to Index Your Site?
Google's indexing process is complicated, with many aspects affecting one another. To get them to index your website quickly, you need to determine any roadblocks in order to prevent Google from indexing in the first place.
Secondly, notify Google that you have fresh content and need your website to be indexed. Also, The quality of your content and the lack of internal links may a deal-breaker in the indexing process.
Finally, boost your website's popularity by building external links to your website and getting people to speak about your content on social media channels.
Google's Indexing Process in a Nutshell
Google's index is often compared to a huge library – one that's larger than all the libraries within the world combined. The index contains billions and billions of pages, from which Google picks the foremost relevant ones when users make search queries.
You can think of Google Index as a database that contains websites all over the internet. Whenever someone searches for your website, Google will search for it in its index then display your site.
With this much content that keeps on changing, Google must constantly be in the process to look for new content, content that's been removed, and content that's been updated – all to stay its index up-to-date.
For Google to rank your site, it first must undergo these three phases:
Discovery: By processing XML sitemaps and following links on other pages Google already knows about while the search engines discover updated pages and queue them for crawling.
Crawling: Google then goes on to crawl each discovered page and passes on all the data it finds to the indexing processes.
Indexing: Among other things, content analysis and render pages are determined by indexing processes either to not index them.
Check If Your Website is Indexed by Google
There are ways to improve your website's indexing on Google. First, take a look at your webpage on Google, and second, use a tool called Google Search Console. We will explain both of these methods.
1. Perform a Google Search
By simply performing a Google search, you can check if Google is indexing your web pages. So, by simply entering the URL of your website into the search bar you can see if it appears in the results.
If it appears in the search engine page results, then it means Google has indexed your webpage.

2. Use Google Search Console
Another way to improve the Google indexing of your website is to use Google Search Console. It's a free tool that shows the site's performance on the search engine.
In your Google Search Console, go to URL Inspection from the options on your and enter the URL of your website or blog post. If you see a message saying URL is not on Google, then it means the search engine hasn't indexed your webpage.
Ways to Get Google To Index Your Site
Here are some suggestions to get Google quickly index your website:
1. Prevent Noindex Tags from Webpages
A common issue which Google doesn't index your content is because of the robots noindex tags directive on your web pages. These tags remind Google that you don't want to index the page and show it on its search results.
The meta robots tag may look in HTML source something like this:
<meta name="robots" content="noindex,follow" />
Only implementing them on pages shows that you don't want to be indexed, and in this case, a page is facing indexing issues. You need to double-check if the noindex directive is implemented.
2. Set up Canonical Tags Correctly
Although canonical tags aren't as strong as meta robots directives, because their incorrect operation can lead to indexing issues. You need to make sure that the pages you want to get indexed aren't occupied.
3. Create an XML Sitemap & Include Important Pages
An XML sitemap function shows Google which pages are important on your website and which aren't. Sitemap helps to include web pages that aren't indexed on search engines.  Telling Google that the page is valuable will assists to appear in the search results.
Also, a sitemap finds new content and index it for the search engine crawlers in order to provide a navigation path for the crawler, so it can easily go through your site.
If you want to learn more, follow this guide on how to create a WordPress sitemap.
4. Internal Link from Authoritative Pages and Avoid Using Nofollow
Internally linking your posts to other authoritative pages will improve the indexing process on your site. The reason why internal linking is important is that robots (or crawlers) discover content by tracking different hyperlinks on a site.
Implementing strategically placed internal links will make an effective advantage for Google to understand what your content is about and improve your site's indexing by increasing traffic. However, the pages you receive must be related to each other.
In addition, the nofollow tags determine Google and other search engine robots to ignore these links when checking in order do not to follow or crawl these links.
5. Build High-Quality Backlinks
Having high-quality backlinks will assist in getting Google to index your site faster. Following hyperlinks, backlinks Google also helps search engines to discover your website and its content. Keep in mind that the consensus is that links contribute by more than 50 per cent to your SEO success.
Via inbound links, Google discovers your website. Links also transfer a portion of their authority while getting indexed faster. If a backlink is coming from a high-authority website, it will significantly affect your rankings.
In addition, with a proper strategy and checklist in place, you can get Google to index the most important parts of your website and boost your SEO performance with high rankings. You have to deal with many technical issues as well as content-oriented and PR-based challenges.
The Importance of Website Indexing
Your website's ranking will largely determine how your site performs. If your site is one of the main sources of your brand, it's important to get your site ranked on the first page of Google.
Proper site indexing allows search engines to see all your relevant pages and greatly enhances your site. It may even take you to the first page.
How Website Indexing Works
To index your site, Google needs to implement important strategies. One of the ways is to use small snippets of code, which they call "bots" or "spiders," to crawl your site and view all your pages. While the bots are crawling through your site, they gather the data that helps them to understand what your content is about. This is why SEO takes a lead if you want your website to be valued.
The robot detects each factor which can be a Google ranking sign that tells the search engine what information is available to web users. Based on these factors, Google decides and leads where to index or rank your page. Also, it can index the page at the top of the page to a search query depending on what data is relevant.
Beneficial Indexing for Website
What you see in a search engine is not all about the internet, but an internet search index. This is an important advantage because guarantees that not every page published online will get the attention of the search engine. As a site owner, you need to take a few responsibilities to be included in this index.
Google indexes sites that contain several key components. Take a look at them below:
Matched to popular searches.
Easy to navigate to from the main page of the website.
Link to other pages within and outside the domain of the site.
Cannot be "blocked" from indexing with specific metadata (more on this later).
Keywords are sort of a ping to a search engine: it tells Google what your content is about or which may be returned to search queries back.
Having the right keywords is just one of the benefits Google takes into account before indexing sites. Other essentials are the absence of "broken" pages or links, or a complex web design that prevents the user from easily finding the page or understanding the question the page answers.
Crawling or Indexing in SEO?
Crawling and indexing are two different processes. Verification means that Googlebot reviews and analyzes all page content/code. Indexing means that the page is eligible to appear in Google search results. They do not include each other.
What is Crawling? What's a Web Crawler?
To achieve higher priority websites need to publish new, qualified content. By crawling your track page links and find new page links to other new pages. A web crawler is a software program that keeps track of all the page links leading to new pages and continues the process until there are no more new links or pages to crawl.
Also, web crawlers are known by different names: robots, spiders, search engine bots, or simply "robots." They are called robots because they have a designated job that travels from link to link and captures the information on each page.
Unfortunately, if you imagined a real robot with metal plates and hands, it doesn't look like that. Google's web crawler is called Googlebot.
The verification process needs to start somewhere. Google uses an initial "start list" of trusted sites that tend to link to many other sites. They also use lists of sites they've seen in previous checks, as well as sitemaps provided by site owners.
Crawling online is an ongoing search engine process. It never stops. It is important for search engines to find newly published pages or update old pages. They don't want to waste time and resources on pages that aren't relevant to search results.
Google prefers test pages that are:
Popular (often linked)
High quality
Frequently updated
Sites that post new, quality content have a higher priority.
What is Indexing?
Indexing is the storage and management of information on pages. The robot renders the code on the page in the same way as the browser. It catalogues all page content, links, and metadata.
Indexing requires a huge amount of computer resources, and it's not just about storing data. Creating millions of web pages requires huge computing resources.
What is the Difference Between Crawling and Indexing?
Crawling is the process of discovered pages and links that lead to more pages. Indexing is the storage, analysis, and organization of content and links between pages. There are indexing sections that help inform how the search engine crawls.
Importance of Crawling and Indexing for Your Website
Don't unintentionally block your website from Google
Check and fix errors on your website
Check Google's index, make sure your page appears the way you want them to
This is where your search engine optimization begins. If Google is unable to crawl your site, you will not be included in any search results. With the following process make sure to check the robots.txt file.
A technical SEO review of your website should reveal all other issues related to the availability of a search engine web crawler. If your site is cluttered with errors or low-quality pages, Google may give the conception that your site is mostly useless spam pages.
Coding errors, CMS settings, or hacked pages can lead Googlebot to a path of poor-quality pages. When poor quality influences high-quality pages on a website, search engine rankings suffer.
The Benefits of SEO in Business Development
SEO or search engine optimization helps businesses boost their online visibility and increase traffic to their websites.
A common mistake is to think that SEO is only about content, or text. In reality, search engine optimization taps into everything that makes a website – design, development and content. So, for your SEO strategy to be successful, everything needs to be optimized.
And naturally, the more your site is optimized for search engines like Google, the more likely it will show on the first page in search results. And the more it will match keywords related to your product/service.
But the main advantage of SEO for your company is independence. SEO is basically free, but it is a heavy task that requires a lot of time and energy. So, if you do have the budget for it, it is recommended to hire an SEO specialized company.
These SEO experts know what it takes to drive more natural traffic to your site and improve your brand's credibility.
SEO companies provide a variety of services, including:
auditing your websites;
developing a customized SEO strategy for your business;
implementing tactics that will help your business achieve its goals;
and more.
Regardless, using SEO as a part of your brand marketing will help you develop important strategies for your website in order to maximize the return on your investments. At its core, SEO aims at all brand performances to be fully accomplished. Or at least as best as they can be.
So, what are the benefits of SEO in your brand marketing strategy?
1. SEO Improves Your Search Engine Rankings
We've already established that a good SEO strategy helps your company's website to get higher ranks on any search engine, not just Google. And, and there are a plethora of tools you can use from keywords finders to plugins that analyze your content and rates your SEO efforts, to your own Google Search console that give you metrics on each page's performance.
Whichever tools or set of tools you choose to use, one thing to keep in mind is that every important change in your business strategy influences the design and content of the website.
So with each change, your SEO strategy – keywords, plans, content – will change and adapt.
2. SEO Influences the Quality of Your Organic Traffic
Implementing the right keywords and phrases to accurately align with your products or services will attract more relevant traffic to your site and increase your chances of influencing conversions.
In fact, based on a recent survey, a PPC campaign is on top of SERPs, 71.33% of searches convert from clicks on the first page of search results. An effective SEO strategy will surely bring you more traffic because Google's algorithm is more credible.
3. SEO Provides Measurable Results
Another way SEO contributes to your business is by providing measurable results. Unlike some traditional marketing tactics, SEO can be tracked and measured at every part of a campaign. Using SEO as a marketing strategy will provide a monthly analysis report in order to have a better understanding of how SEO services add value to your business.
While building your SEO strategy, make sure you keep a list of your goals. This is one of the best ways to ensure a return on investment. These goals can include increased traffic volume, improved traffic sources, higher search engine positions, and much more.
Steps to Improve Your Business Performance with SEO
A good SEO strategy improves several processes within your business, not just optimizing a page. The practise of search engine optimization goes deeper than ranking the first o a search engine results page – it taps into user experience and how your future and existing clients interact with your website. It helps your business grow and perform better in all aspects.
So here is how you can improve your SEO, your overall user experience, and ultimately your business performance.
1. Business Evaluation & Site Analysis
SEO evaluates your current site means including looking at the site's architecture and its content to determine factors such as the site's code and keyword density. To develop and implement a new SEO strategy before you need to establish what your current strengths and weaknesses are.
In addition, to analyze your website SEO will also take a glance at your business and its industry. It will help you to understand your brand's target audience and overall business goals before creating any SEO strategy or tactics to improve your website's SEO.
2. Developing SEO Strategy & Goals
The type of business you have and your overall business goals depend on developing the right strategy and goals for your SEO campaign. Part of this strategy includes identifying the right keywords and phrases that the target audience uses the most. Implementing your site audit and industry analysis influences different strategies and tactics that lead to a higher rank than your competition on the search engines.
3. Setup of SEO Tools
Starting to execute your campaigns, SEO determines tools, dashboards, and other systems that suit the most such as:
analytics programs that you will need to implement, and
monitor your SEO campaigns successfully
Before making any decisions about your site, make sure that you have these tools in the right places in order to ensure your brand's capacity to visualize every step of the campaign.
4. Execution of Optimization
The SEO starts to execute your custom optimization strategy only when tools and platforms are in the right positions.
This can include but is not determined to:
clean up some of the code on the backend of your website
make sure your site is mobile-friendly,
easy to navigate
Also, the phase of SEO includes off-page SEO strategies.
5. Ongoing Search Engine Optimization
To make the search engine remains useful for its users, Google reevaluated its algorithm.
Ongoing search engine optimization services can include:
further keyword research,
blogging services,
link-building campaigns, and
other on-page optimization tactics
The most experienced SEO tracks the newest changes in search engine optimization that allows them to update strategy in order to ensure long-term success for your company's site.
Conclusion
In addition, search engine optimization (SEO) builds and improves websites that appeal to search engine users and search engine robots. In fact, it is a very slow process for search engines to identify relevant information by searching through individual pages for keywords and content.
On the other hand, indexing is the tool companies implement to process and organize data before a search to enable super-fast responses to queries. The result of properly combining SEO recommendations and indexing processes on a website is higher chances to users arrive from other search engines and increase brand recognition.