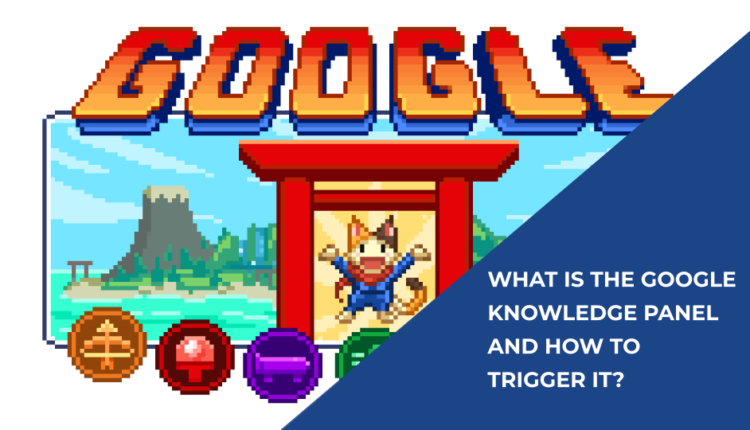 We are living in a world where everything can be found with one click of a mouse. Any kind of data is collected in one place only called Google. Billions of people use Google every day. While you are searching for any kind of information, you type keywords to enter into search engines.
Moreover, many companies use Google as an implement to boost traffic to their websites and raise recognition of the brand. Not only can it help you find what you are looking for, but a Google search can also provide the best summary, enabling searchers to go broader and deeper while increasing brand awareness.
So let's dive deeper into the world of Google and learn about important tools to use for your brand or business. 
In this article, you'll learn:
What is a Google Knowledge Panel and SERP?

What is Branding on Google?
How to brand yourself by using the knowledge panel as a tool?
What is a Google Knowledge Panel?
Knowledge panels are information boxes that appear on Google when you search for entities like people, places, organizations, things that are in the Knowledge Graph. They are meant to help you get available content on the web-based data of the topic you want to look for.
Google automatically collects this data from public sources and other web pages, including Wikipedia, Facebook, or Yahoo, where all information with millions of objects and billions of relational facts are processed in one place called Google Knowledge Panel.
The Knowledge Panel contains a lot of details associated with your searched query likewise: business niche, brief description, history, CEO, link to the company's website or social profiles
Also, when you search for a famous artist, the information available on the knowledge panel increases by presenting quotes, links, and movies as well.
In addition, Google Knowledge Panel is incredibly useful in boosting the visibility of the brand to stand out from competitors and help their users to find information more quickly.
Adding a Knowledge Panel as a part of branded searches helps to dismiss unnecessary ads and surely gets your business on the top of search results and products more prominent.
What is a SERP?
A search engine results page, or SERP, is the page you see after entering into Google, Yahoo, or any other search engine. Each search engine's SERP is designed differently and has certain functions, but since Google is that the hottest among other search engines, we will specialize in their features and algorithms. The SERP features that display after an inquiry depends upon the sort of search query entered. Search queries typically fall under 1 of three categories: navigational, informational, or transactional.
Navigational Queries
Navigational queries occur when someone is trying to seek out a selected website but doesn't type the site's full URL. To take advantage of navigational queries for your site, consider buying ads for the keywords you would like to rank for—like the name of your business, as an example.
Informational Queries
A person makes an informational query once they need to seek something, likewise background facts on a topic or how to perform certain projects.
The searcher isn't usually looking to make a sale, but the proper content often drives them to a specific brand. That's why it's important to make relevant content that the brand could meet certain requirements, needs, and interests of the audience.
Moreover, adding multimedia content to your site is an effective advantage to generate traffic from informational queries. Here are some common examples to think about:
A how-to video that has mentions of your product or service
An instructional blog post with helpful tips for your audience
A shareable infographic
A downloadable guide or whitepaper
Transactional Queries
People make transactional queries when they are thinking of buying a particular product or an item from a broad category.
Transactional queries have the foremost revenue potential, so keywords tend to possess tons of bids for pay-per-click spots. That means that additionally to the organic search results for his or her transactional queries, people will see relevant paid results, too.
Note: If you want to appear in the organic search results, you need to focus on creating the best and most relevant result for the query. You also need to get confirmation if Google can index your pages, which they're optimized for search.
Paid ads are an effective advantage among brands; consistent with research by online advertising group WordStream, almost 65% of clicks on transactional SERPs happen on paid ads.
The SERP is your SEO opportunity to specify that your site has value through an enticing title and alluring page description.
How can SEO and SERP be Used as a Marketing Strategy?
Nowadays, it is necessary to know how to raise brand awareness if you want to succeed in the digital world. Companies hire specialists to make sure that their brand's name is going to be recognized enough over the digital world.
Let's take a look into steps that will help you increase your presence in SERPs and will get the desired number of clicks.
Step I: You Need to Keep Track of Your Raking
You need to focus on the keywords that will help the user to enter your website while typing specific words. Before, you should check your current organic rankings. The purpose of the snippet is to give a direct answer to the user without searching further. Types of snippets are:
The second thing is to note what kind of snippet is placed for each of your target keywords
Step II: Optimise for Google Site Links
The work of site links is to display the foremost important pages of your website. It will generate such links that will increase your visibility of displaying site links. It has a couple of anchors and alt tags that are descriptive.
 If you are a blogger, you can write guest posts for online biggies like ThriveGlobal. Also, you can create content on social media sites and then add links that take readers to your website.
Step III: Add Schema Mark-up
It helps Google to know what your page is about. You can review the mark-ups of schema and also implement them on your page. The review of the schema mark-up can allow Google to display the ratings within the organic results of the search.
Step IV: Use and Optimize Google my Business
If you want a lot of places for your branded article, you should go for Google My Business. Sign up with Google My Business to make sure that your business is listed. Make sure that you fill up all the fields to optimize it completely. Make your Google My Business listing longer to make it visual and provide all the important information.
Also, all the small print and features of your business should be displayed and listed too on Google My Business. Signing abreast of Google My Business also will make your presence on Google maps. To further increase the length by answering all the given questions on your listing.
Step V: Run PPC Ads
Organic search is the major tool that increases traffic to your Ads even if you want to go for SEO. Running Ads has effective chances of transforming them from search to click. Use branded keywords for your brand name.
Fill out all the relevant fields and ad extensions to increase its chances of getting more clicks. Using branded keywords on Google will stop everyone else from acquiring your valuable space and can also increase your chances to increase traffic to your website
Step VI: Optimize Social Media Channels to Appear in Knowledge Panels
The main purpose of the Google Knowledge Panel is that all the data related to your business should be displayed in one place only.
This will be more beneficial if you connect all of your social media channels to provide a chance for the user to look for a component that you simply control and own.
You have to verify your social profiles with Google first to display them. To mark your social profiles, schema mark-up is that the only way.
Step VII: Optimize Images to Appear in SERPs
It is recommended to review the target keyword by adding certain images relevant to the keyword. The image should match the target keyword, headline, and URL.
You can also use some SEO basic images to extend your chances of image ranking. Image ranking includes many important factors likewise image sizes, dimensions, captions with relevant descriptions.
Note: Image content has to match your keywords to select appropriate file names.
What is Branding on Google?
Google no longer means "search". Google also means e-mail, browsers, broadband networking, energy, and personal computing.
Google has embraced limited amounts of advertising in a number of those areas such as the "Going Google" campaign for Google Docs.
Since 1998, Google has steadily emerged at the highest of its game as far as search engines are concerned. Its sophisticated search algorithm has been a feature of many search engines.
Also, during the time Google developed more functions such as cloud computing, maps, news, Google Chrome, and therefore the hit mobile OS, Android system.
Google also gave ordinary content providers the advantage of earning income with Google AdSense. Advertisements were structured and arranged so that they do not appear as if spam.
In addition, the success of Google has led people to trust their businesses and go along together with Google. Let's talk about how to make your brand stand out from competitors with Google.
Social Media Profiles are Part of Your "Professional Brand"
Make a list of each social media profile you create, then decide which one you want to add to your professional brand. In other words, determine which of your profiles you would like employers to search for when they see you on Google.
Check these sites to see if they tell the same story about your work history and education. If you're actively looking for and applying for jobs no matter the country, from Australia, India, to the U.S, consider uploading a copy of your resume to your account if you have the choice.

If there are other accounts you want to leave for personal use, a smart step in your branding strategy is to extend your security settings so that only your close friends and family can find and access them.
Noteworthy Information to Your Professional Online Profiles
Most recruiters say that a positive online presence can influence a getting a job position. Some great job tips can boost your social media profiles just by adding examples of written or designed work.
Also, sharing personal details about volunteer activities or relevant professional association memberships can help you for a getting interview. Moreover, posting information about current events that are relevant to your field demonstrates that you are keeping motivation in your industry. Making sure that these social profiles are up to date is also a necessity when building a brand and applying for jobs. For example, having an up-to-date cover letter and work experience on your LinkedIn profile will make a positive first impression with recruiters.
And last but not least, keep growing your network of contacts. Employers are always in the process of observing candidates who have mutual connections with current employees and other people that they trust.
How to Brand Yourself by Using the Knowledge Panel as a Tool?
In the previous topic, I have been talking about what is the knowledge panel and its impact on the brand's image. Knowing its functions and how to use it correctly, businesses can boost the visibility of the brand and create a competitive advantage in this giant network world.
According to Google, knowledge panels are automatically generated when checking out entities that are within the Knowledge Graph. The panel is automatically updated as information changes online.
Ways to make it easier and more likely for that knowledge panel to appear. First, you need to make sure if SERP already is a part of your company's functions. Usually, Google can associate the knowledge panel entity with one among these accounts; YouTube, Google Search Console, Twitter, Facebook. If not, then you will get to provide additional information to verify that you are a licensed representative.
Step I: Create a Wikipedia Account
Wikipedia and Wikidata are the primary sources of data for Google when creating a knowledge panel. So, improving your online presence on both of those search engine platforms will increase your chances to be recognized over the internet.
Create a Wikipedia account with one click of the mouse on 'Create Account' and start a journey.
Step II: Edit Pages to Become an Auto-confirmed User
After logging in, you must be confirmed by an auto-confirmed Wikipedia user, and one of the best ways is by editing Wikipedia pages. So, you need to take some time to spend editing old Wikipedia pages.
Step III: Create Your Page
Once you are confirmed user by Wikipedia, you can start to work on creating the page on your own, but keep in mind these things:
Make it grammatically correct
Improve the readability
Write information-rich content
On the other hand, citations needed to be taken into consideration. You must determine the sources to support your content.
Sources that qualify include:
Books
Newspapers
Magazines
Journals
Sources that don't qualify:
Social Media
Press releases
Professional/personal blog
Step IV: Submit Your Page
When you are done with creating the content, submit it to the website. Wikipedia will analyze the page to determine whether the information is credible or not. After when Wikipedia confirms that the content is reliable, you will get posted on the platform.
Step V: Update it Regularly
Here's a piece of advice you need to keep in mind. If you want to see successful results, never stop updating your Wikipedia page. There's nothing more damaging to your brand, Wikipedia, and Google, than outdated information.
Ways to Increase Your Chances of Acquiring a Google Knowledge Panel
1. Create User-centric Content
Creating user-centric content increases your chances of improving your brand with a Google Knowledge Panel. You must study the user's intent behind an inquiry in order to optimize your content accordingly. Satisfied users increase your chances of ranking within the Google knowledge panel.
2. Gain User Reviews
User reviews can help Google to develop a better understanding of your business. The search engine analyzes the reviews to determine whether the brand receives a knowledge panel or not.
3. Boost Your Site's Authority
Higher site authority means higher chances of appearing knowledge panel on Google. Boosting site authority through link building is one of the best marketing strategies for the brand.  Approach a high authority website and appearance for guest posting opportunities. Once you get selected as a guest author, create an article to link it back to your site.
Following these practices can influence the brand to acquire a knowledge panel. However, you want to prepare effective strategies that assist you in creating user-centric content and build quality links for your brand as well.
What is Next?
In this competitive network environment, your brand needs to make an effective advantage if you want to distinguish from competitors and be recognized. Here, SEO becomes more important than ever.
Unfortunately, nowadays's society needs more than just creating a user-friendly website, gathering a bunch of links, or improving SEO practices, but you always must be one step forward and create strong brand awareness in this digital world.