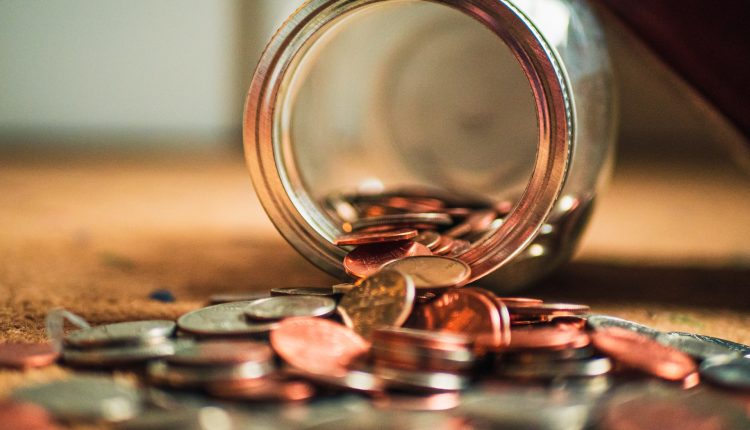 Best WordPress Plugins to Help You Run a Successful Affiliate Marketing Program
Affiliate marketing is one of the most effective approaches to monetize your website, and WordPress affiliate marketing plugins help you manage your affiliate marketing activities more successfully. When your users utilize your tracking link to purchase, you will receive a commission.
In addition, to make your website successful and optimized, it's crucial you choose a hosting provider that suits your needs and budget. So, if you are looking for reliable and affordable WordPress hosting, this one is for you. WPMU DEV is fast becoming one of the best choices on the web. Get 20% off any of their fully-managed and dedicated plans.
WordPress is adaptable enough to utilize any plugins you choose to devise a strategy for administering the affiliate solution that works effectively for you.
If you want to start an affiliate website, we prepared a great list of the top free affiliate plugins, or, if you are interested in Gold affiliates, check out this list of best gold affiliate programs
1. Affiliates Manager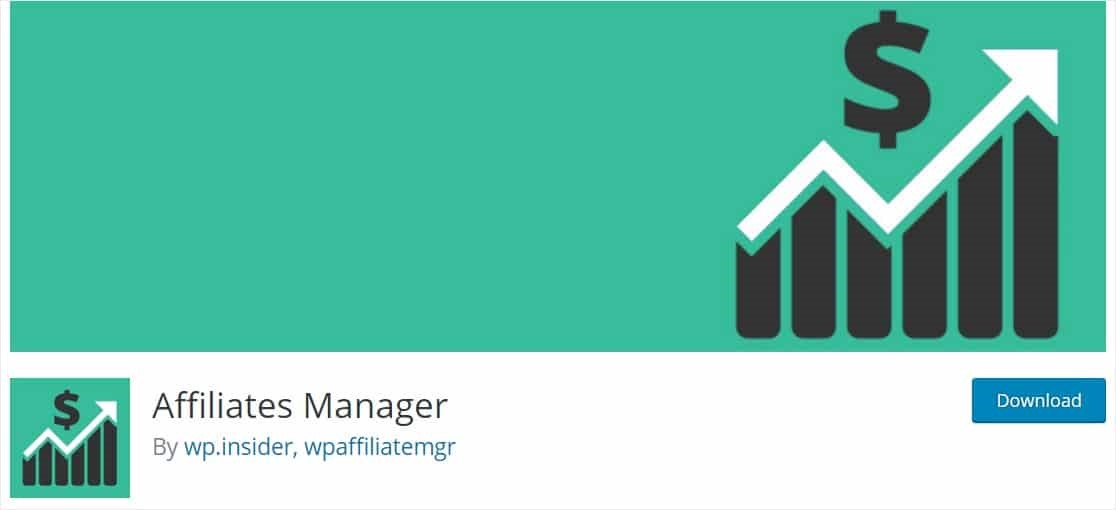 Affiliate Manager is one of the most popular WordPress affiliate marketing plugins. It's also highly cost-effective. The plugin facilitates affiliates' acquisition, enrollment, login, and maintenance. It also keeps a record of the referrals your affiliates provide to your website and pays out commissions appropriately.
Features:
Simple to Use – Monitor, analyze, and pay your affiliate partners directly from your WordPress site.
Allow users to join your affiliate portal to access your information and advertise your products or services.
Real-Time Tracking – You and your affiliates may track purchases and referral clicks in real-time from your account.
2. EasyAzon – Amazon Associates Affiliate Plugin

If you make money from Amazon, EasyAzon – Amazon Associates Affiliate Plugin is one of the quickest WordPress affiliate plugins to employ. Rather than so many time-consuming manual tasks. It provides an easy yet efficient text affiliate link that leads straight to the goods for sale on Amazon.
As a result, it reduces a significant amount of time. Moreover, another critical advantage of EasyAzon – Amazon Associates Affiliate Plugin is that it is accessible everywhere the Amazon Affiliate Program is active.
Features:
Use their Amazon.com buy buttons on your site for visual CTAs.
Link Management – Automatically cloak links to make them shorter and more professional.
Geolocation – Use the link finder to determine the origin of your visitors.
3. YITH WooCommerce Affiliates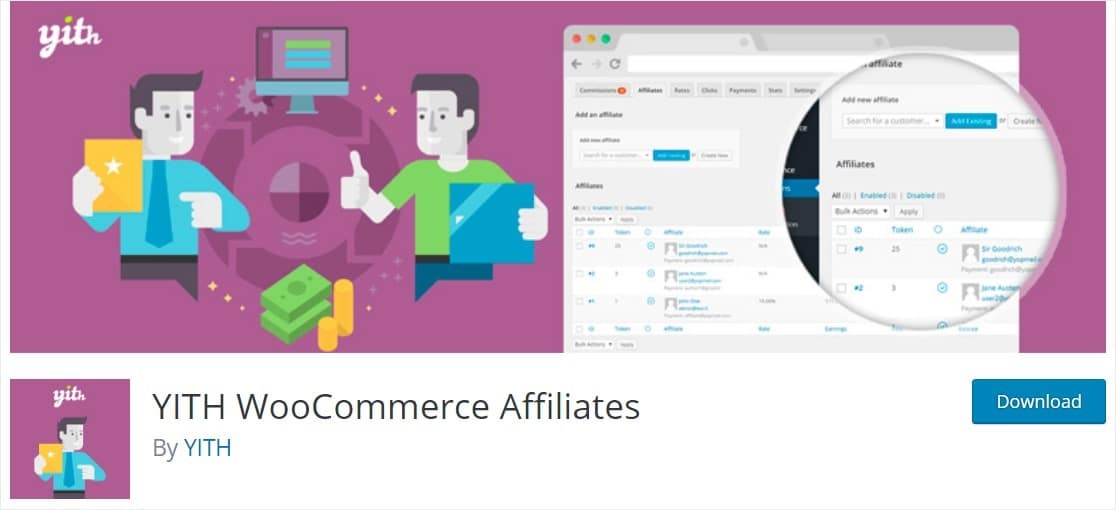 YITH WooCommerce Affiliates assists businesses in increasing sales by spreading advertisements for their goods and websites on marketing blogs. However, affiliates may quickly register, and you can decide whether or not they can advertise things. Also, shortcodes can be used to enable affiliate registration.
When a customer purchases using their referral link, the plugin saves the affiliate ID and credits the commission. You can select to only distribute credits to affiliates who have previously registered and activated their accounts.
Features:
Adjustable Cookies – Save Refer IDs in the user's cookies and modify the duration of this customizable storage time.
Affiliate Dashboard – Affiliates have their dashboard to track their commissions and progress.
Prorated Commissions – Calculates refunds and affiliate commissions based on such refunds automatically.
4. Affiliates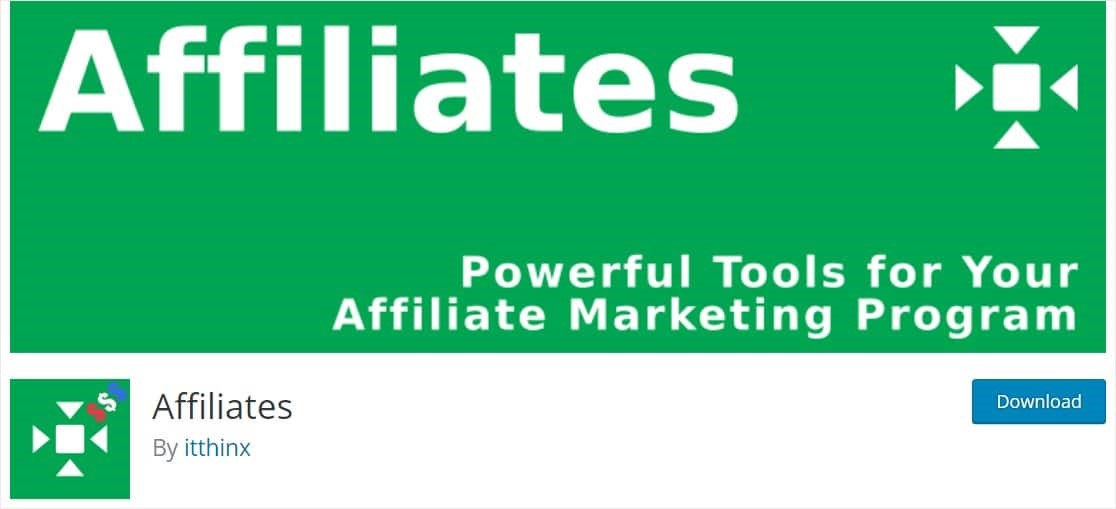 Affiliates are also another outstanding WordPress affiliate plugin beneficial to company owners. The plugin includes an entire affiliate system for merchants, resellers, bloggers, online groups, product release webpages, and much more.
Furthermore, it gives unrestricted affiliate program administration options on the back end. It also includes customizable affiliate panel designs, blocks, and shortcodes. As a result, you can deliver an exciting feature to your affiliates.
Features:
Real-Time Reporting – An easy-to-use dashboard employs graphs to track the progress of your affiliates.
Simple to Use — Create your affiliate section and dashboard using blocks and shortcodes to appear exactly as you want.
Integrations – Integrates with popular programs like WooCommerce, BuddyPress, Events Manager, and others.
5. Affiliate Coupons

Boost your earnings by marketing discount coupons – find out why Affiliate Coupons is the most user-friendly coupon plugin.
Features:
Quickly create affiliate coupon merchants and links – Create visually appealing lists of coupons offered by your preferred shops.
Coupons may be shown using a shortcode – Your interface must be visually appealing. Affiliate Coupons cleanly displays WP coupons with an easy-to-manage shortcode.
Sort your coupons – Show your greatest coupons proudly in the front and center. You have the option of promoting specific affiliate discounts at the top of your sites.
Final Thoughts
There are several excellent methods to supplement your income as an affiliate marketer. To begin, adopting the correct advertising strategies and tools can help you succeed. The fantastic thing is that WordPress makes it simple to apply your strategy by allowing you to use affiliate marketing plugins.
If you're an affiliate marketer or manage an affiliate program on WordPress, there's a plugin on this list for you. We hope this article makes it easy for you to select one.