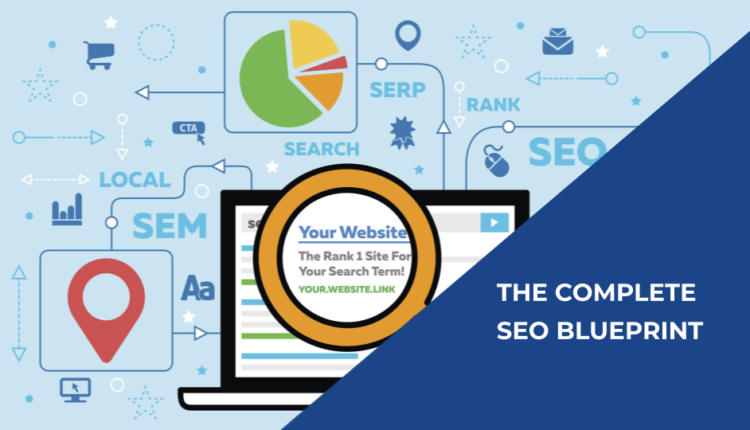 The Complete SEO Blueprint
How to increase your Google ranking in 7 easy steps
Imagine your website receives thousands of visitors every month from organic traffic simply because of your high Google or Bing ranking. Or imagine your content is the first thing every user sees whenever they do a search. Well, that is not a far fetched dream. Many businesses are doing it and so can you! All you need to do is follow this complete SEO blueprint that shows you 7 easy steps to move you at the top of any search engine result page.
So in today's guide, we will start by taking an in-depth look into what search engine optimization or SEO is. More importantly, how does the Google Search Engine work and why is it important for your site to be at the top of the search engine result page – SERP. Then we will continue with a step-by-step guide on how you can improve your website and rank higher on Google and other search engines. Ready? Let's dive in!
What is Search Engine Optimization?
Search Engine Optimisation – or SEO for short – refers to a set of actions that website owners take in order to be more visible on search engines like Google and Bing, and increase their ranking. In simple terms, SEO efforts grant every website a score – or rank – based on relevancy, quality of the website, content, loading speed, and many other more factors. The higher your rank, the closer to the top of the search engine result page you are. And naturally, the more organic traffic you get.
Approximately 3.5 billion Google searches are conducted every day by potential customers searching for goods and services or users looking just information. So, the more relevant your website is, the more chances you have for these users to organically click on your link. Hence the name organic traffic or free traffic.
However, the sad news is that about 90 percent of the existing web pages get no organic traffic from search engines. And this is because many companies, especially new companies, either don't see the value of SEO or don't know how to implement it. So how does Goole ranking work?
How does Google Search Engine Ranking work?
All search engines, including Google, use something called a bot or a crawler to read and, rank and archive every single page on the internet. That is a big task, but nonetheless, search engines like Google take the data collected from these crawlers and – with the help of a complex set of algorithms – sift through content whenever a search is made.
The algorithms check the content with an ever-changing list of rules and sort the results depending on how relevant the content is for each search. For, if a user searches for SEO tips, the highest-ranking results – which are also the most popular – are the first in the search engine results page.
The exact criteria Google uses is kept secret. However, they have made public some of the factors that they consider when ranking a page from billions of searches conducted each day. For one, Google finds relevant content through keywords. The better the keywords, the higher your ranking. But other factors, such as mobile responsiveness, page speed, quality of content, the structure of the website, and so on, equally affect your SEO and your ranking.
So, what are the seven easy steps every new company should take in order to improve their search engine optimization and boost their search engine ranking?
1. Use the right SEO Tools
Today, there is a plethora of free, online tools readily available for any website owner. In fact, one doesn't have to be an SEO developer or SEO expert to achieve their ranking goals. All you need is the right toolbox, starting with setting up your Google Search Console.
1.1. Google Search Console
The Google Search Console, as the name implies, is a tool provided by Google. Using the tool is completely free and optional. But it is highly recommended, as the Google Search Console sends alerts regarding issues that the crawlers find. This helps maintain, monitor, and troubleshoot each page of your website in the Google Search results.
Simply put, the Google Search Console is a key tool, especially when launching a new website. The console will notify you of any indexing issues, and allow you to fix the issue and send a re-index request which will speed up the process. It also shows you traffic data like how often you show in a Google search, your top search queries, click-through rates, and so on.
Also, the Google Search console helps fix issues with your accelerated mobile pages, which – due to Google's Mobile-First rule – are crucial for any website. But more importantly, the Search Console shows you a complete and detailed list of other websites linking back to you. Using this feature you can sort your backlinks and remove the toxic ones, leaving you with only the good, rewarding backlinks.
1.2. SEO themes and plugins
If your website runs on WordPress or any other content management system like it, it is vital that you install an SEO plugin. There are a number of plugins out there both free and paid-for. For WordPress, for example, the two contenders for best SEO plugin at the moment are Yoast and RankMath. Yoast is an older, better-known SEO plugin that helps WordPress users with both on-page SEO as well as off-page SEO. The latter is more of a "new kid on the block", that makes bold promises for better SEO results.
Whichever you choose, SEO plugins will help make your life easier and making your content on your website SEO friendly. However, remember to pair your SEO plugins with a good Search Engine Optimised theme. Since themes come with a pre-defined frontend, they will already have all of the good SEO settings in place, like typography hierarchy, URL formats, site structure, etc.
1.3. Google Analytics
Google Analytics collects data like what specific pages bring, bounce rates, unique views, and user demographics, and so on. Moreover, Google Analytics helps pinpoint who is your audience, what are your most successful pages and how to improve your site and your content to appeal better to them.
Like with the Google Search Console, having your site paired with Google Analytics is not mandatory but it is strongly recommended. However, unlike the Search Console, Google Analytics is more of a freemium service rather than a free one. So, Google Analytics is free to sign up with and comes with some free features. But, for more advanced data insights, users will have to pay.
2. Plan your keywords
Keywords Planning, also known as Keywords Research, is a vital on-going process in every website's existence. Keywords, for simplicity's sake, are words used in a search engine search that match with your content. And usually, they come in two forms – short tail and long tail. As expected, short tail keywords consist of one or two words, maximum. An example of short-tail keywords would be "design", or "web design". Longtail keywords, in comparison, resemble a sentence or question, like "what is the definition of web design".
However, keep in mind that keyword competition is fierce. The more common the keywords, the harder it will be to rank for it. Especially for new websites. So, instead, it is highly recommended to use long-tails that are relevant for your content and your business.
2.1. Use Google suggestions
Another feature of the Google algorithms is the related searches, or 'Google suggests'. We witness this feature whenever we start typing a query in the search bar and Google jump in and suggests related topics. For example, start typing "Search" in the Google Search bar.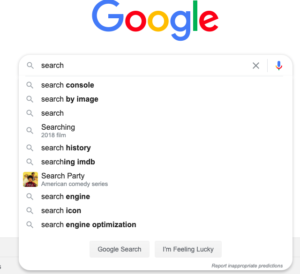 So, a basic strategy is, when doing your keyword research, take your short-tail keyword, and place it in the search bar. See what others are searching for and use the longtail results relevant for you as your keywords.
However, if you want better and more advanced results, there are plenty of tools out there that provide keyword suggestions.
2.2. Google keyword planner
The first and one of the best examples of a keyword planning tool is the Google Keyword Planner. This is actually a part of the official ads campaign management tool, Google Ads – previously known as Google AdWords.
So first, sign up with Google Ads, then simply choose between Discover new Keywords or Search by Volume. The first option uses your suggestions and finds related keywords, while the second analyzes your keywords' search volume and expected reach.

Discover will show you how many searches each keyword has, what is the average cost-per-click or CPC, competition level, and so on. The second option gives you insights into the expected performance of each keyword. If you are starting your keyword research from scratch, use Discover first then run the keywords list trough the Search by Volume feature.
2.3. Ubersuggest by Neil Patel
Another great, freemium tool for your keyword research is Ubersuggest, from Niel Patel. Similar to Google's keyword planner, Ubersuggest focuses on the key factors of keyword selection – search volume, CPC, paid difficulty, and SEO difficulty. In other words, how many people are looking for that keyword, what value does every click brings, and how difficult it is to rank for that keyword using paid ads and SEO.
Your target is the keywords with the highest search volume and lowest cost-per-click, and SEO difficulty under 35. The lower the SEO difficulty the better.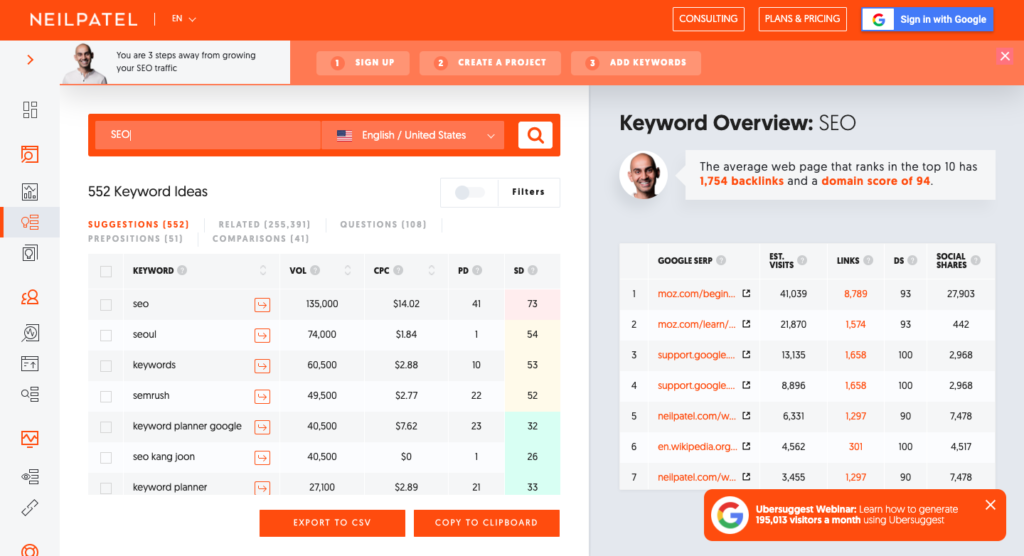 What's even better, unlike Google's Keywords Planner, users don't have to register before using Ubersuggest. But there are limitations on how many keywords searches you can do as a free user.
2.4. Online Forums and other tools
As mentioned before, the list of keywords planners available today – free or paid, but mostly paid – is limitless. However, another strategy is looking at online forums such as Quora and Reddit. These two platforms are probably the best examples of how to find longtail keywords relevant to your users.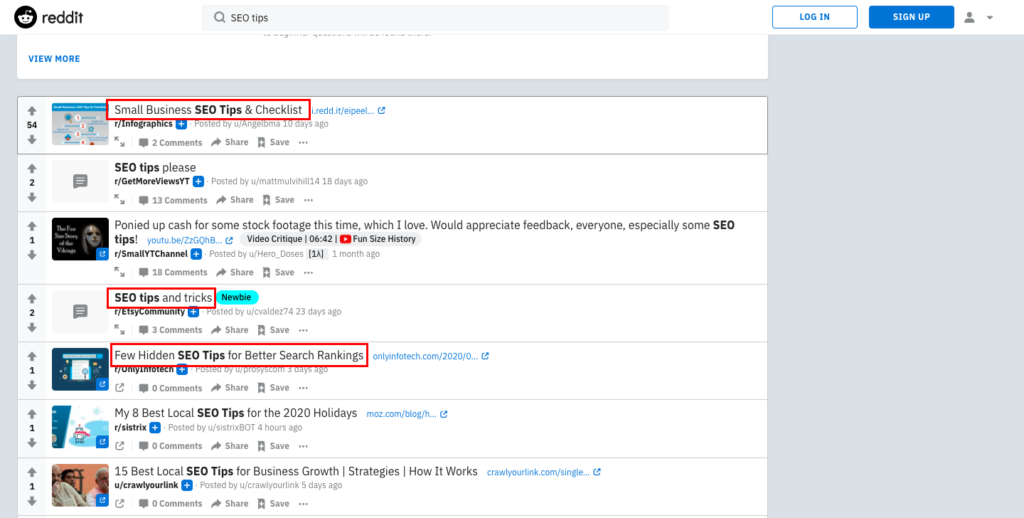 Use these platforms and others like them and see what users are searching for. See what is popular and how you can incorporate that into your titles and content. The more relevant you are for your users, the more chances you have at boosting your ranking and attracting organic traffic.
3. Content optimization
Content optimization is a skill you will learn by practice and it extends far beyond the list of keywords you just compiled. That, in fact, is just the start. So, find one or two keywords that best define the content of your page or post. These are your focus keywords and they should be present in several places around your page or post.
In your page or post title;
In your URL;
In your meta description or first lines of your content;
In at least one of your headings or subheading (H1, H2, or H3);
In at least of your images' alt text;
Throughout your content.
Aside from that, remember the KISS principle – Keep it simple, stupid. Make your titles and URLs short and catchy, but avoid sounding like a click-bait. Make your meta descriptions to the point and clear. Also, add some relevant images, videos, or infographics to help deliver your content.
Lastly, don't overuse your keywords. Your content should have a pleasant flow, one that your users appreciate and come back for time and time again. If you are writing for the bots instead of your users, you will do more harm than good.
4. Fix your technical SEO
Search engine optimization is more than just great content with a strong keyword analysis. It also engulfs a few technical aspects of your website, like your performance, responsiveness, or loading time. Nonetheless, technical SEO is just as important as every other aspect of the process.
So even though it might sound a bit technical, do not skip it. However, it is recommended that any changes in the technical SEO are done by an experienced developer.
4.1. Page speed
Aside from a negative impact on your Google ranking, slow loading speed is bad for your user experience. Anything more than a few seconds, and your visitors will move on to your competitors.

Luckily, there are various tools out there that assess a website's loading speed and provide performance reports for you. A few examples of such tools are WebPageTest, Gmetrix, or even Google's PageSpeed Insights. Simply type in the URL of your website and wait for the metrics. The report will show a score, your loading speed as well as ways to improve your website's performance.
4.2. Mobile optimization
In recent years, Google's mobile-first index has gained more and more power over a website's overall ranking. Especially as already more than 50% of Google searches are currently done on mobile devices, and the numbers keep growing. In fact, starting in 2019, every website is indexed based on its mobile version by default.  So, do you need a mobile responsive website? Yes, yes you do.
How you optimize your website for mobile devices is a different thing. If you are using a content management system like WordPress, for example, choose a theme that is already mobile responsive. Also, if you are using page builders, they have tools incorporated in them that help with this step.
But if you are using a custom-built website, you will need to consult a developer or digital agency that specializes in your technology.
4.3. Indexing errors
In order to avoid indexing issues on either mobile or desktop, there are a few things you need to check. First, make sure you use the same meta robots tags for both your desktop and mobile sites. Especially when it comes to noindex or nofollow tags. Also, if you are using different links on the desktop that on mobile for the same resource, make sure the Googlebot can crawl it.
Also, Google crawlers base your index mostly on your mobile version. So make sure you provide the same content on mobile as you do on the desktop version. Otherwise, you risk ending with desktop pages not being indexed.
If you do have indexing errors, you will see them in your Google Search Console, under Coverage. Make sure you do the recommended changes and send a re-index request as soon as you identify and fix the issue.
4.4. Add an SSL to your site
Ever since 2014, Google made SSLs mandatory in their ranking requirements. However, updating your site from HTTP to HTTPS is not just for a better position on the SERP. It's also for you and your users' security. SSLs or Secure Socket Layers (SSL) are now a standard in web development, and they create a secure, encrypted link between two points – the user and the server.
Aside from securing information, SSLs also help to authenticate each user so the servers know "who" they are communicating with. Simply put, these processes are both extremely important for the safety of your user's data and your servers' integrity.
4.5. Optimize your empty state pages
Empty state pages are pages showing an error when f.ex a page is not found, also known as the 404 error. But they apply also when there is a server error when there is a loading error, or simply when a search failed. Basically, any blank page is an empty state page.
However, empty pages are still active pages, and they get indexed as any other page. But, because they contain no information, crawlers mark them as useless more-or-less. This affects the quality of your website, and implicitly your ranking.
More importantly, blank empty state pages are bad user experience and a missed opportunity. So, make sure you pay attention to your blank pages and take advantage of their potential. Use them to sway users into taking a specific action and make them memorable.
4.6. Add canonical tags
Duplicated content affects your SEO even when it's your own content. For example, if you post the same copy of the content on both pages A and B at the same time, whichever page gets crawled first is the one that ranks for that content.  The same goes for duplicated content from two different sites.
One way you can avoid this is by adding canonical tags to your content. This way Google crawlers know which is the original copy of the content and ranks it properly. However, it is also strongly recommended you avoid using too much-duplicated content, as Google may deem your website unreliable or untrustworthy.
4.7. Adopt Accelerated Mobile Pages
Back in 2015 Google announced a new indexing rule, the mobile-first indexing rule. Along with that, they also created a new open-source HTML framework, called Accelerated Mobile Pages or AMP. Pages using this framework prioritize resource loading and rely on pre-set rendering and layouts for optimized loading speed.
Aside from page speed, AMPs also boost your website's performance and overall user experience. And, mobile pages using AMP are marked with a small lightning bolt on the side, making them more visible for users and more attractive.
4.8. Submit your XML sitemap to Google and Bing
An XML sitemap is basically a list of all of the pages living under your domain. It can be as simple as listing your main pages – Home, Blog, Contact and About us for example. But it largely depends on how in-depth you decide to go.
Either way, sitemaps help crawlers understand the structure of your site. More importantly, when building the sitemap you can set priorities. So for example Home will be crawled and indexed first, and less important pages will be left for later.
5. Build links
Whenever Google bots crawl a website, they are searching for three types of links – internal links, external links, and backlinks. While many content writers seem to forget these links, all three of them are extremely important for your SEO and overall ranking.
5.1. Internal links
Internal links, as the name suggests are those links within a website that connect one piece of content with another. For example, when an article refers to another article in the same blog. Crawlers find new pages and content through internal links and backlinks. And the more links, the more relevant and useful your content is in Google's eyes.
So, since creating internal links is so easy, why skip it?
5.2. External links
External links are those linking your content with an external source. Similar to how backlinks work for your content, external linking helps Google see who your sources are. The more relevant and trustworthy your sources, the more "points" your content gets.
Moreover, building external links is also an excellent way of attracting attention from your sources and entice them to link back to you. Thus, there is a good chance that if your content is comprehensive and your website rank is good, others will be inclined to backlink to you.
5.3. Backlinks
Like external links, backlinks are created by other sources to your content. In fact, backlinks are one of the most important SEO tools you can have, and one of the most damaging at the same time. In simple terms, if sites with a high Google rank link back to your content, Google sees you as a high authority and grants you a better rank.
At the same time, you will be penalized if bad backlinks or toxic links are pointing to your content. In this case, use backlink audit tools like Google Analytics, SemRush, and others and check your backlinks on a regular basis. You want to filter out the ones that are harmful to your site, so as a general rule, remove the ones with sketchy content, a low ranking, no SSL, and so on.
7. Maintain your website ranking
The last step in our complete SEO blueprint in 7 easy steps to rank tops in google is more about strategies to maintain your website ranking high in google. You see it is one thing to have a high google ranking on page one. It is another thing to maintain your position as everyone wants to be at the top. It takes dedication and consistency to maintain the top rank on google's first page.
7.1. Up to date content
In today's world, content and news move fast and so should you. So, in order to maintain your rank growth, your marketing efforts need to keep up. Add new and interesting articles to your blog on a regular basis. The more in-depth the content the better.
But, remember that content is like a plant. It is nice to add new ones to your "garden" and grow it. However, your old content needs attention too. If you neglect your previous content, it will wither away into oblivion. However, if you update it regularly, you will keep it relevant and prosperous.
7.2. Meta descriptions and titles
When you update your content, remember to do the same for your meta tags – descriptions, titles, URLs, and so on. If not, your content update might go unnoticed by both Google and your readers. For example, let's say you wrote a guide on SEO in 2018, with the title "Best SEO practices in 2018". This is was a very popular article for you at the time, and now you want to update it so it stays relevant. But you forgot to fix the title.
As a result, users searching for Best SEO Practices will be more likely to pick an article with "2020" in the name. So, you lose visits, simply because of the "2020" article it more relevant for their timeline and needs.
7.3. Delete 'zombie' pages
Finally, take care of your "zombie pages". In simple terms, zombie pages are either those that generate little to no traffic, or they are just too hard to find. This includes unindexed pages, mobile unresponsive pages, as well as pages with bad quality content.
When bots crawl your website, they will try and index these pages. Naturally, if they are impossible to find, they will be left unindexed and you will get a "red mark" on your record. Moreover, the more zombie pages you have, the longer it takes Google to crawl your website and rank it. So use Google Search Console and Google Analytics to filter out these pages and either fix them or remove them altogether.
Conclusion
As we've seen in today's SEO guide, improving your Google ranking is not difficult. But it is hard work. So, start with setting up your toolbox. Google Search Console and Google Analytics are two of the best tools you can have. But they are not the only ones available. Find the ones that work best for you and learn to use them by heart.
Second, don't skip on keywords research and user research. Learn what your users want and what they are looking for. The better you know your users, the more relevant you will become for them. Third, educate yourself with technical SEO practices or reach out to an expert that can take care of it for you. Whichever you choose, do not neglect it.
Finally, create as many internal and external links as possible and maintain your content and your pages in order to stay relevant in the everchanging market. Good luck and godspeed.