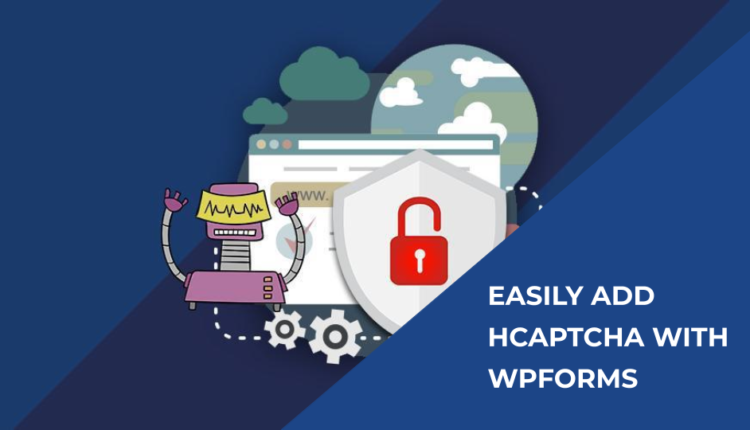 Easily Add hCaptcha With WPForms
hCaptcha, a free and privacy focused alternative to reCAPTCHA
One of the most important things to look out for in everything we do is safety. We protect ourselves and take precautions in our everyday lives by fastening our seatbelts when driving, putting on a helmet when cycling, or looking in both directions when crossing a road.
This should be the same when we are online, it is often an easy choice like not clicking on a link you know is not safe or not to answer the obvious scam emails from a long-lost relative. But sometimes, these malicious attempts are not dependent on us doing anything; it is enough that we are not protected.
Individuals have a number of ways to protect themselves and are rarely targeted, but what about websites? Websites can be and are targeted by different malicious programs or applications, among the most used of these are bots.
Bots are not inherently bad, as they can be used for many great things as well. Good bots include SEO crawler bots, which help with indexing web pages, or bots that conduct website analysis and help find out what needs to be improved on a site.
But bad bots are far more common, for example, ad fraud bots can be used to click on advertisements automatically, DDoS bots can be used to take down a website, and spambots are often found in the "comment" section of a website advertising something.
Let's look at one of the great ways to ensure that your website is protected from any malicious bots that might come across it!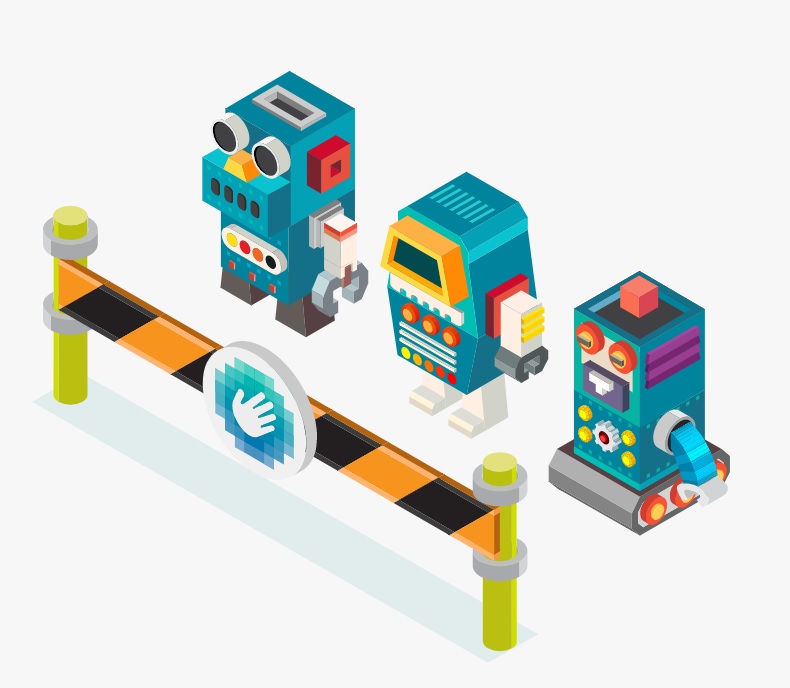 CAPTCHA
Captchas are a protective defense that ensures that no bot gets onto your site. They achieve this by giving tasks that are easy for any human but unsolvable for bots.
You must have already come across some of these captchas on websites as they have been around for 21 years. The classic captchas asked visitors to identify distorted letters and numbers.
However, a number of these have been impossible for people to read as well, as they are sometimes so distorted you have to guess what is really there.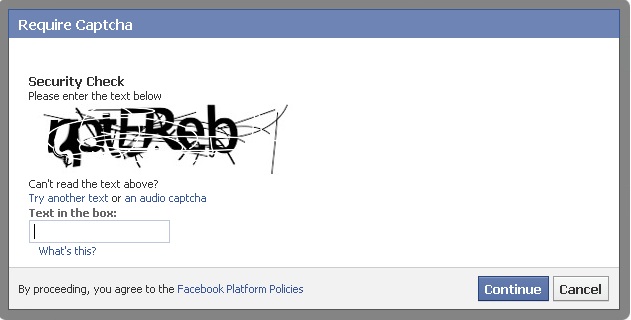 Websites want to make sure that visitors have a great experience. But if they get frustrated trying to get through a security check and can not pass multiple times, they might end up leaving.
Because of this problem, there has been great improvement throughout the years that ensure people can easily pass captchas.
The most used captcha is Google's reCAPTCHA which has been around for over a decade, but it has some downsides.
It tends to give challenging and time-consuming tasks and it has to be embedded in most pages of a website, not just its forms or log-in pages to be truly effective. Apart from this obviously problematic side of it, it also uses a risk-based score system.
How does Google's reCAPTCHA assess a visitor's risk score? Google looks at different things, among them whether the user has cookies installed, or if they have a connected Google account. Therefore, it obviously does not consider the privacy of the real users.
Nowadays there are far better alternatives that keep bots away from spamming your site and protect your users' privacy as well. Let's look at one of these, hCaptcha, and what it can offer you!
hCaptcha
This captcha's creators took the privacy of every visitor seriously. They do not look at anything else than whether there is malicious intent or not towards your site.
It also ensures that your website is secure and makes sure that only accurate, real data is collected. And it makes sure your users have the best experience by giving easy and fast tasks.

The great news for anyone who can not spend a lot is that it is absolutely free to use. There is a payable option offered by the company as well, which is great for larger websites that want to control their captchas more and set the difficulty, content, or type of the tasks.
Another great feature is that you can get rewards for the user-generated data created while your visitors solve the tasks of the captcha. Now that we looked at how great hCaptcha is, let's see how you can add it to your site!
WPForms
WPForms is a truly beginner-friendly WordPress contact form plugin. Over 4,000,000 sites use it to quickly create email subscription forms, contact forms, payment forms, or any other online forms they might need. It is a great choice for any business or individual that wants to create their own WordPress form.
The first step to add hCaptcha is to open WPForms settings, and under CAPTCHA you will find the possible choices.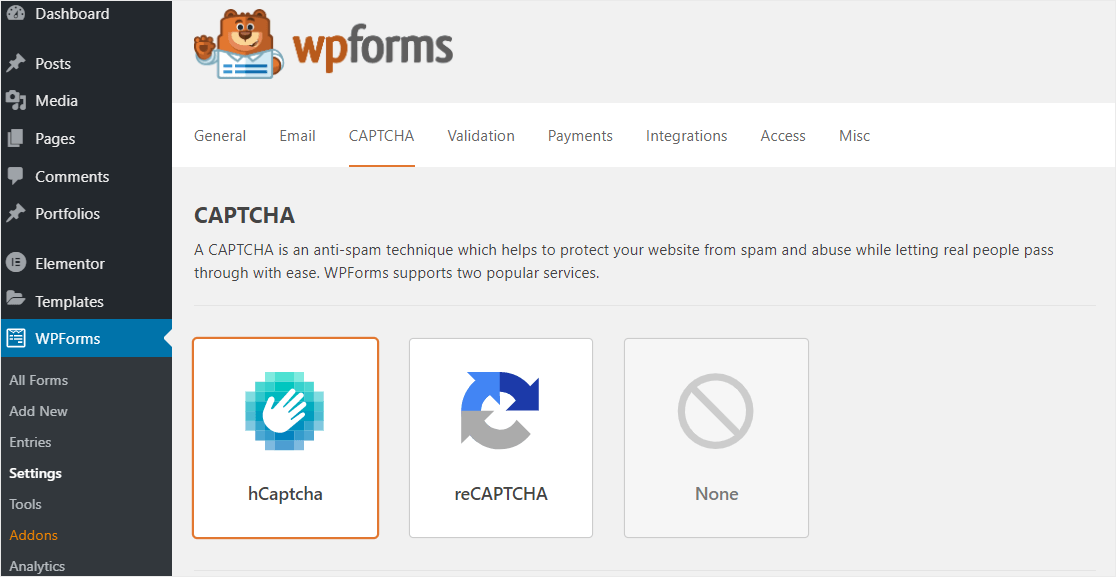 There is a possibility to implement No-Conflict Mode, change the Fail Message and preview your future captcha.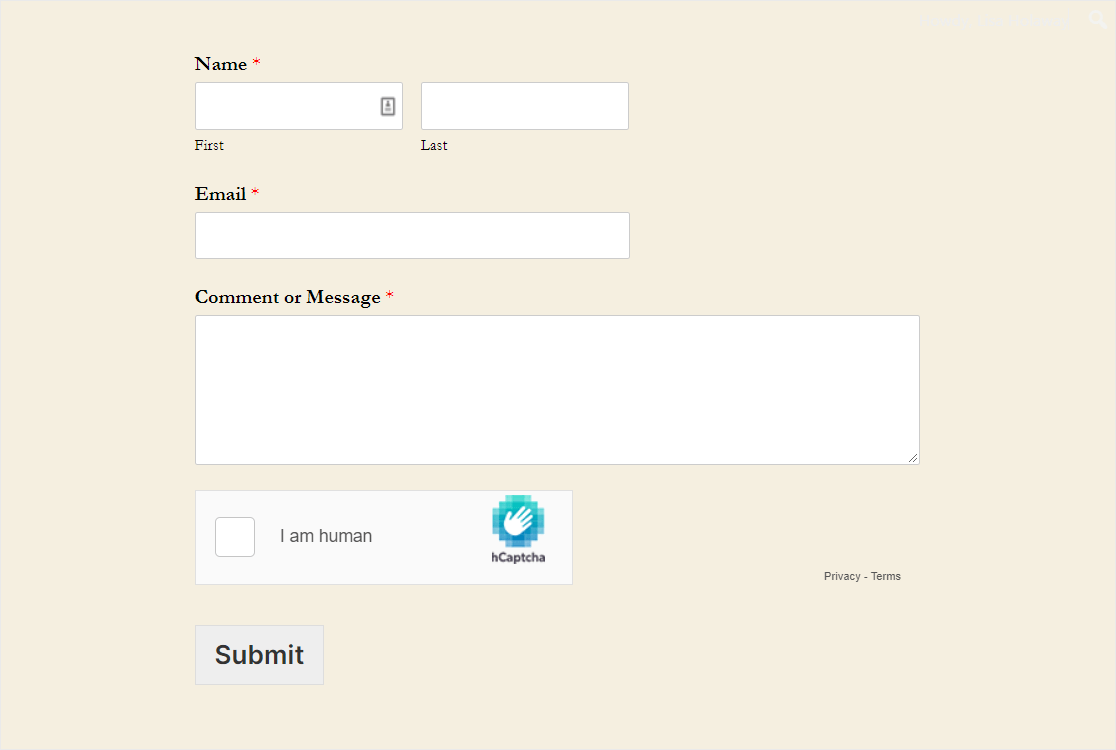 When you chose the captcha you want, you will be able to see the service in the WPForm builder. To get to the captcha settings you can just go into your forms and click on hCaptcha.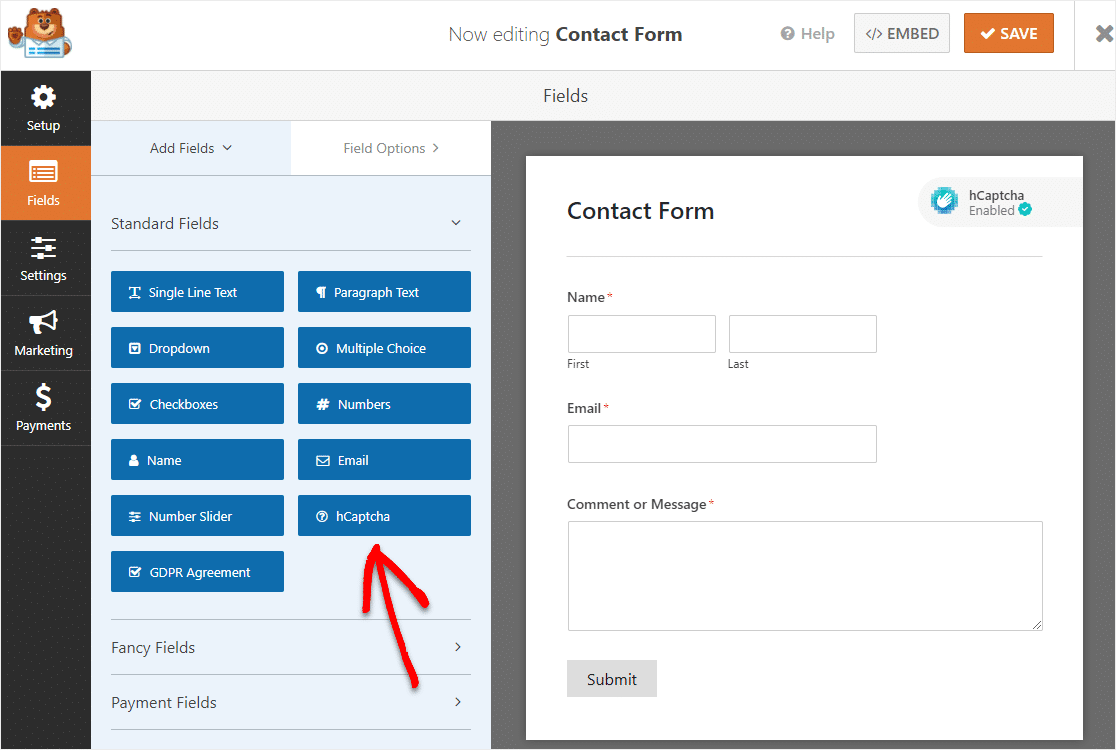 That is all the steps you need to take to ensure that your site, log-ins, and contact forms are protected from any malicious spambots.
Conclusion
Google's reCAPTCHA, while it is the most used is becoming a worse choice as great alternatives are developed. Google takes all data generated by your users while solving their captcha and uses it without giving anything back to you.
hCaptcha offers great features, makes sure your website and your users' privacy is protected. They also show their appreciation by giving rewards for all the data generated.
When comparing the two it is obvious that hCaptcha is a way better choice for anyone who wants to protect their website and their visitors' privacy.