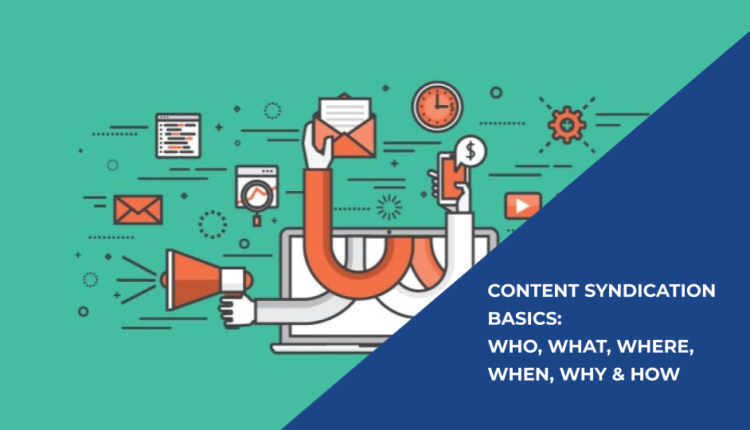 Content Syndication Basics: Who, What, Where, When, Why & How
Find out how Content Syndication can make your business more known
Are you struggling to get traffic into your channels, despite spending a lot of time on your content? Do you feel stuck even though you're confident that you publish quality content that is optimized for search engines?
We know exactly what you're going through.
But hey, don't give up just yet, and don't give in to self-doubt. Instead, allow us to introduce you to content syndication and find out how you can achieve more organic and referral traffic, brand awareness, and high-quality links with Content Syndication.
Introduction to Content Syndication
Although it might sound confusing, it's quite simple: the idea is to get your content re-published on other platforms in order to attract more audience to your channels. More channels mean more traffic!
It's safe to define it as one of the growth marketing measures: even though it doesn't guarantee sales, it will certainly get you more traffic, quality links, and brand awareness, as well as the overall improvement of SEO rating.
Additionally, you can publish your content on many different platforms to increase your chances of receiving even more online traffic.
What do the other platforms get out of this?
They get new data, insights, and content in general, which is always great, as Google likes regular content publishing.
Moreover, as new formats of content make their way into the market, you don't have to stick with just articles and blogs.
Depending on who you want to reach, you can try out content syndication with webinars, e-books, podcasts, videos, as well as various visual material like charts, diagrams or infographics.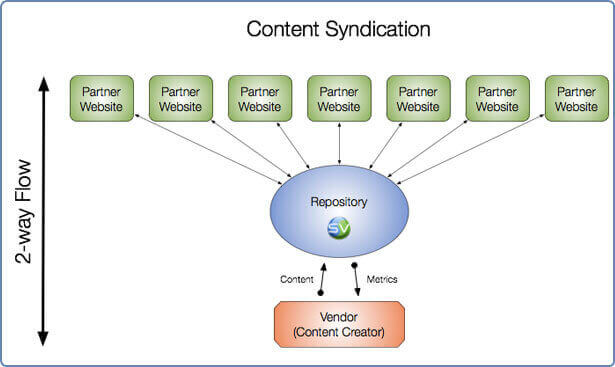 Who is Content Syndication for?
The answer is Everyone!
As long as you have the right strategy and channels to share your content with, that is.
While some industries might be more discussed and read about, there are strategies and methods to succeed for companies in the niche industries too – keep reading to find out how.
In addition, the size of your business won't necessarily decide the level of your success with content syndication – what matters the most is the quality of your content and… yes, your approach and strategy!
Why is Content Syndication a Good Idea?
As mentioned earlier, content syndication can achieve many wonderful improvements linked to your SEO efforts.
While conversions and commitment of visitors aren't guaranteed, it is the first step in the whole buying process – being heard and seen by relevant groups of people.
When your company is finally noticed – the rest is up to your products, services, and attractiveness.
Now, let's discuss the details of how we can actually benefit from Content Syndication.
1. Organic and Referral Traffic
Psst, wanna know a secret? Here it is: Google loves Organic and Referral traffic.
When people show interest in your website for what it is and not because of paid advertisement, Google gives credit to your content and website's authority, which consequentially improves your ranking in the search engine.
Naturally, it's a great bonus that you don't have to pay for it.
But of course, getting traffic is easier said than done, even if your content and website are meeting all SEO expectations.
So, this is where Content Syndication is a great help – now the same content of yours can be displayed by channels other than yours.
If this method makes you think about duplicate content, be assured that Content Syndication doesn't create duplicate content, although there are things that you need to keep in mind when you finally get to it.
More specifically, you must remember that although Google's AI is clever and approves Content Syndication, it's still just an algorithm that requires context and information in order to make the right conclusions.
In other words, in order to make it easy for Google's algorithm to understand that it came across syndicated content, two actions will have to be made: a provided link to the original source and a canonical link.
Remember to discuss these details and find a common ground with the responsible person representing the partner's company to decide how exactly this will be implemented.
2. High-Quality Links
Depending on which strategy you apply to your content syndication (you'll find out about different types soon), you can receive high-quality links to your site.
In the traffic part, we discussed that syndicated content would have to provide a link to the original source, which is yours. This essentially means that the platform where your content is syndicated is backlinking to you.
This is yet another action that Google recognizes as a sign of authority – your content is so relevant and well-written, that other websites are referring to it.
3. Brand Awareness
One of the main reasons why so many companies nowadays use online channels is to make their brand more known. As so many people spend hours online, it's not really surprising, right?
Content Syndication can do more than just drive more online traffic into your website and social media channels – it can lead to a positive impact outside of online frames.
As soon as people know about your business, they can take the knowledge and positive impressions outside of the internet and keep on spreading the word in a word-of-mouth way.
4. Higher Website Ranking and Authority
Combine the 3 earlier mentioned benefits of using content syndication and you'll get… That's right – higher website ranking and authority.
Simply put, it's a circle of success: as you get more traffic and links, your overall SEO ranking improves and then Google defines your online channels as a high authority and displays them on top of the search results.
Consequentially, as you're being displayed on top of the search, you improve your SEO and receive more online traffic – this demonstrates the effect of successful digital marketing that you can achieve easier and faster thanks to content syndication.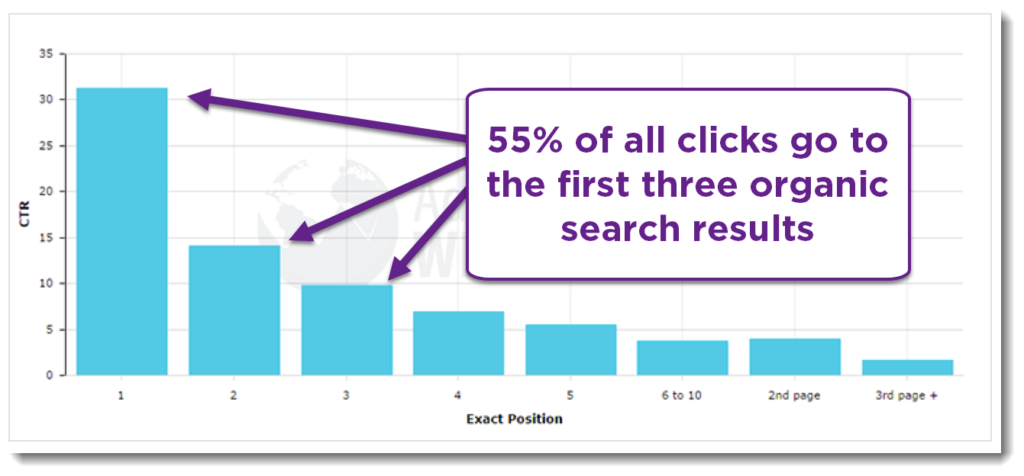 5. Larger Customer Base
As mentioned before, content syndication doesn't guarantee real customers, as it depends on your strategy and content that visitors witness when they get to you.
However, there are strong signs that if people made it to your website, it's likely that they appreciate or are at least intrigued by your content, which strongly improves your chances of turning them into customers and creating a larger customer base.
Not to mention the fact that platforms that syndicate your content are vouching for you and expressing trust!
How to Get Started?
Now that you know about Content Syndication and what if offers, let's discuss how you can prepare yourself to get the best out of it.
In this step, we'll also discuss different ways of preparation and implementation, as one method doesn't always fit everyone. Keep reading to find out what the options are and decide what fits your business best.
Step 1: Create Clear Goals
Let's start from the beginning and define what it is that your business wants to accomplish using content syndication in the first place.
Stating clear and specific goals will make the whole process well-organized and clear for everyone onboard in the process.
By now you know that content syndication is mostly a successful method for growth marketing goals to achieve, which is the first step of a buying process.
While it wouldn't necessarily lead you all the way through to the final step, which is buying, it could be a complementary addition to a bigger campaign.
Simply put, content syndication could certainly be the first part of your marketing campaign that would lead to the next steps.
Remember: the needs of your company are always the top priority. The decision is yours to make.
Step 2: Create a Strategy
We finally reached what you've been waiting for since the beginning of this article – different strategies that you can apply to your goals. Here are the strategies that will be explained:
2.1. Re-publish your Work with More Authoritative Websites
It's nice having popular friends, right?
It's easy to understand this strategy when you think of bigger websites like that.
Just like the typical popular friends, authoritative websites have a larger reach and audience at their disposal, but it also takes more work to manage their content.
With your high-quality content, influential websites can keep their audience engaged and at the same time give you the well-deserved credit that drives people into your website.
This strategy will work best if your products and services fit large groups of people and large-scale businesses.
2.2. Share your Work with Websites Similar to Yours
A collaboration with websites that are similar to yours will definitely drive quality leads and potential customers that are actually interested in your type of business.
The strategy will have the best impact on businesses that are in a niche market with a focused customer base.
2.3. Share your Work Through Guest Posting
The difference between guest posting and re-publishing to more authoritative websites is that you create completely new content specifically for another content writing site and not re-publishing it from your own.
After having it published there, you can re-publish it on your own channels.
Although it works the other way around, it's just as beneficial for your business and this strategy will also work best for large-scale businesses that seek more traffic.
2.4. Try out Paid Platforms
If you find paid campaigns and advertisements more reliable, you will find paid platforms more appealing than the other strategies.
The paid content syndication won't surprise you if you've worked with PPC campaigns before, as all you need to do is set up a budget, define your target audience, provide your content and a link to the original source.
Then, as visitors start clicking on your content, you get charged for it. In addition, your content is displayed under the name "Sponsored Content" and won't really affect your SEO.
This strategy can benefit almost everyone, as long as you're willing to pay for it.
2.5. Re-purpose your Content
This one is really simple to accomplish! Here's a scenario: your business has a blog page, where you regularly post quality content.
You have a great start there, now what you can do is choose the best blog you've written, use it as a script for a video, and film it.
Now you have a video that you can upload to YouTube. As you require certain amounts of growth, you may find sources to buy YouTube channels for instant growth. If these two formats are not enough, feel free to take out the video part and just use the recording for a podcast. Voila!
This strategy can be applied to absolutely any kind of business!
2.6. Get your Content Partially Syndicated
Have you ever looked for visual content like graphs, infographics, or charts on Google to visually represent your content? If so, you probably know where I'm going with this.
Although it won't be the full content that gets syndicated, it will likely be as efficient or perhaps even more, as most people enjoy visual material more than reading.
This strategy can be applied by any kind of business.
Step 3. Choose your Channels
No matter which strategy you choose to apply, there's a rule of thumb that applies to everyone to get the best results possible:
Always keep your goals in mind and you're good to go.
Are you ready to take action now that you know more about content syndication?
In this step, we'll make your life easier with a shortlist of channels that could be beneficial to your business. In case you don't find the mentioned channels suitable, feel free to do a little research of your own with a simple Google search.
Before we move on to the list, however, here's a word of advice: avoid websites that appear to be full of spam and have a lower authority than your own website when it comes to everything SEO-related (backlinks, traffic, general SEO optimization, and so on).
Moreover, we don't recommend creating partnerships with websites that don't give proper credit to the original source with canonical links.
If the other websites don't get the credit they deserve, you shouldn't expect that you would.
Now, without further ado, here's the list that includes paid and free content syndication channels:
LinkedIn: Free
SlideShare: Free
YouTube: Free
Mix: Free
Quora: Free
Reddit: Free
Medium: Free
Pinterest: Free
SoundCloud: Available for free and with a subscription
Taboola: Paid
Zemanta: Paid
Outbrain: Paid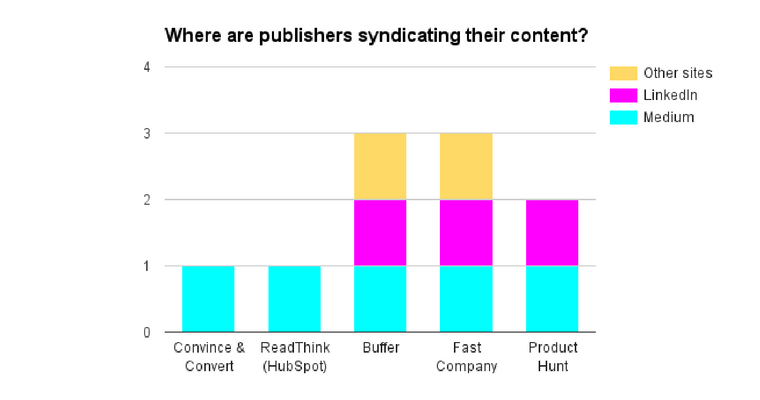 Conclusion
Now you know the most important things about Content Syndication and your business is well-equipped to go ahead and get all the benefits it offers.
As you might have realized now, Content Syndication mainly makes your business thrive when you seek increased online traffic, brand awareness, backlinks, and overall SEO improvement. Or in other words – growth.
However, Content Syndication can be easily integrated into a bigger marketing campaign that aims to cover the whole buying process: from awareness to sales.
Whatever you decide to use Content Syndication for, be sure to establish and remember clear goals, create a strategy, choose the best channels, and be consistent in the process. That way, you will achieve what you aim for in no time!
Good luck on your journey to content syndication!