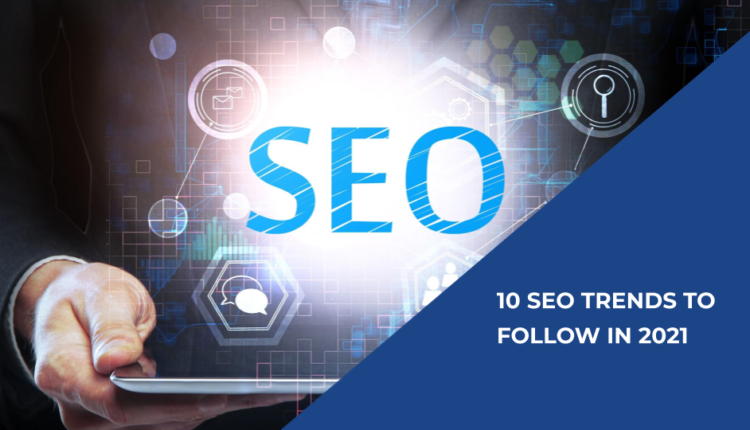 The digital marketing sector is in constant evolution. The importance of SEO is continuously increasing day by day, with the aim of attracting new customers and ranking our sites higher. 
Moreover, SEO is also constantly evolving, and keeping an eye on the latest updates is a challenge. That's why in this post we will look at some of the top SEO trends that search engines will take into account in 2021.
These trends will allow us to prepare our new year's strategies better and more efficiently.
1. Voice Search
We've been talking about this trend since last year, but in 2021 we will be able to count on voice search on all smart devices.
Thanks to innovations such as Google Assistant, Siri, and Alexa, voice search technology has come a long way. And voice search is becoming increasingly more popular on search engines – via smartphone voice commands – and smart speakers.
This will change the way we write and communicate completely, meaning that our SEO techniques will have to adapt based on the new keywords we use.
This big change in search habits also affects paid campaigns, which will have to be tailored for the use of more semantic phrases and give more importance to the use of Long Tail when thinking of keywords.
In addition, we will have to work on adding a conversational tone in the content we write – website content, articles, and ad copies – and a focus on a simple question-answer format with short sentences.
2. Mobile Responsive Platforms
While Voice search is rather a new rends, having a mobile responsive website has been one of the most relevant trends to follow in the last two years.
In fact, this started in 2019 when Google announced that their bots will only crawl mobile versions of the website following the mobile-first initiative launched only 3 years earlier.
This means that the search engine considers the mobile version to be the main version over the desktop one. And if a site doesn't have one, it is risking not getting indexed at all.
Moreover, the number of users who access the internet from their mobile devices is continuously increasing every year.
As of November 2020, smartphones and tablets already account for more than 60% of internet traffic, and the number is expected to grow to 70% in 2021.
So making your platform mobile responsive is not a nice-to-have option, it's a mandatory route.
3. Zero-Click Searches
User behavior is also changing day by day, and so is the predominant customer generation, the millennials. A generation that wants things done quickly. That's when zero-click searches come into the game.
Zero-click searches are searches where the user collects as much information as possible without clicking on an actual URL.
Because of its nature, zero-click searches rely heavily on rich snippets, product recommendations from Google, Google business widgets, Google maps widgets, and so on.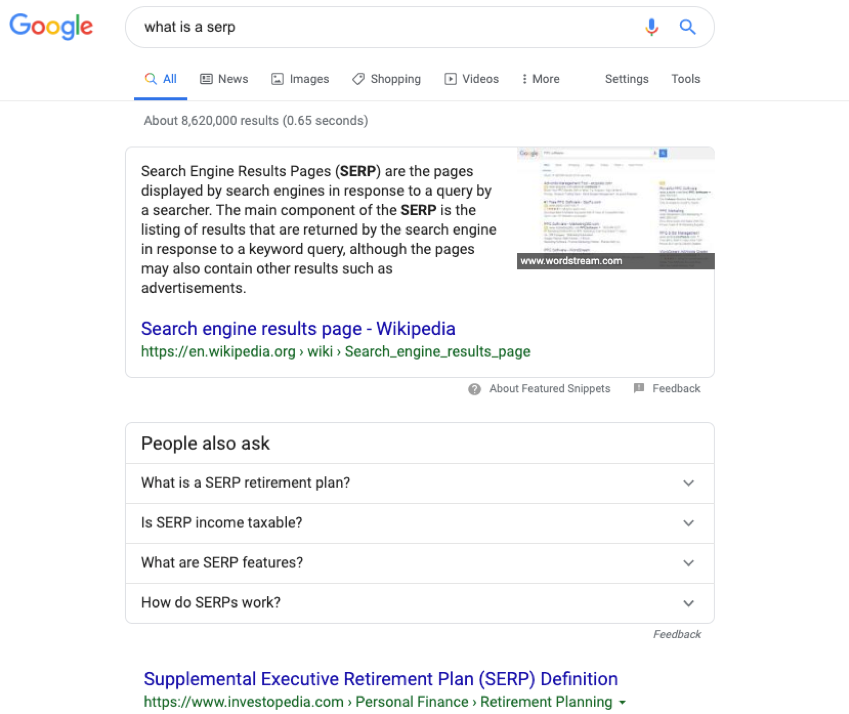 All of these elements help your site showcase interesting content, such as prices, user opinions, or videos that will hopefully catch the attention of your user and convince them to click on your site, instead of your competition.
The more your focus on optimizing for zero-click searches, the more chances you have to increase your click-through rate (CTR) and traffic to the website.
Moreover, Google has been implementing this format for years, but the rise in voice search made them increasingly more popular. Therefore, the competition is increasing as well due to the great benefits it brings to the CTR and to the conversion rates. 
4. Semantic Search
Google no longer focuses all its efforts on text strings but observes and understands the context of the sentence.
That's why we include secondary words and treat them at the same level of importance as the ones that are primary. To address the semantic search, we will create content posed to answer what users would naturally search for.
The term semantic is related to the interpretation of word signs, symbols, languages, and other resources that we use to communicate. When it comes to search engines, refers to the correct interpretation of searches through semantic data networks and interconnected words.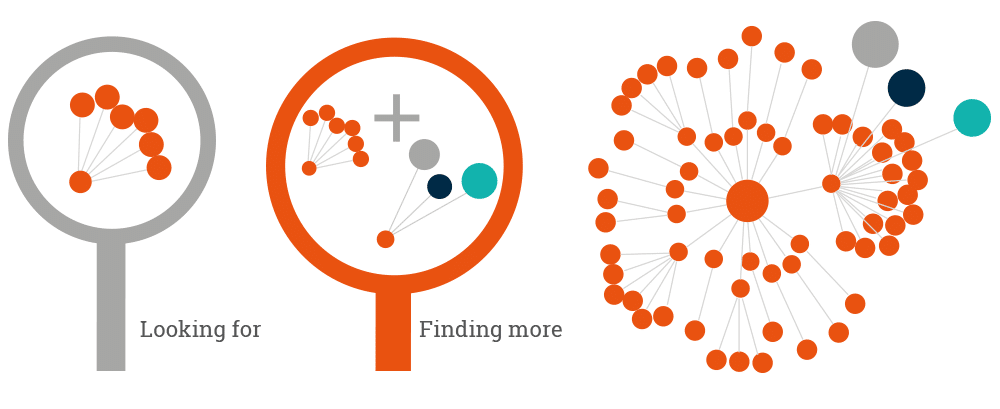 Thanks to this connected network, search engines are capable to better interpret the intention of the search by different users, for that, search tools are better at finding what users are looking for, even with fewer data and information. 
5. User Experience
If you want your business to be successful you can not ignore user experience. Not only it's going to be one of the most important factors to follow in 2021 but is also changing the core of all companies due to the crisis caused by the pandemic.
And if that is not enough to convince you, Google is also pushing a new set of indexing factors called Core Web Vitals. The new rules will take into consideration the page experience, UI and UX, page speed, and more.
So, the correct implementation of user experience remains a goal to pursue, offering users the journey, the content, and the overall enjoyment they are looking for, without distractions, and in the most original and fastest way possible.
Making sure your users are satisfied with the content and information they are getting from your site will increasingly be a decisive factor. Elements such as loading speed are essential for the correct experience on-site.
The growth and development of Google Discover, a mobile device feature that offers content to users based on their interest without having to do the full search, will become a very important traffic channel for information sites.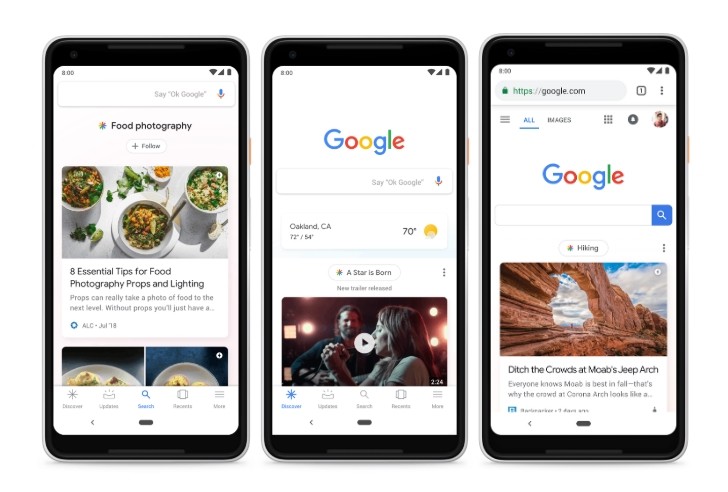 6. Local Searches
The user's behavior is changing due to the current situation. One of the aspects that are changing related to SEO positioning, is the local searches. The pandemic has changed our way of life and has also changed our internet browsing habits.
People are trying to buy and search for goods and services that are as near as possible from their residence. So, local SEO is becoming very relevant, especially in transactional searches.
We use Google to find products, services, or businesses locally, such as a store, restaurant, or even neighborhood stores that came into play, even without a website. For this reason, it is very important that these types of companies are positioned in Google locally, as this will give them great visibility in their area.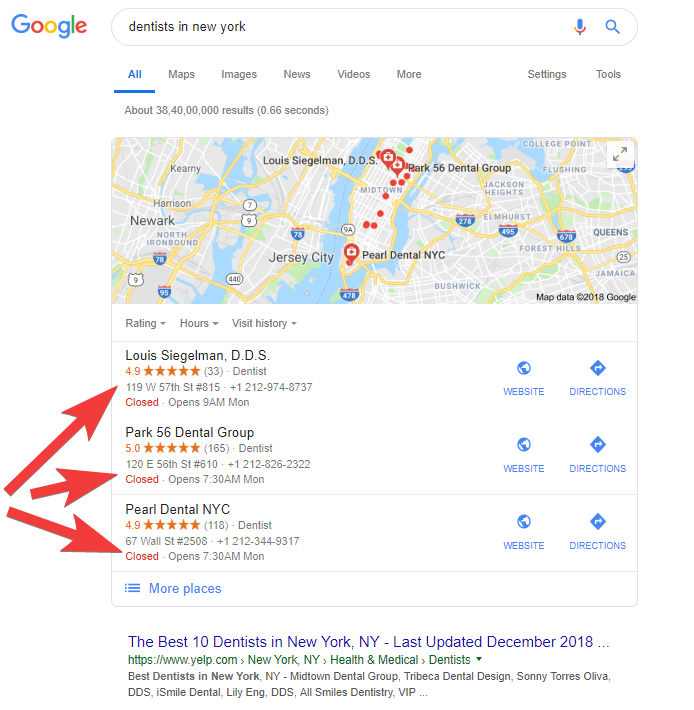 Not opting for a local SEO strategy will imply that the web has to compete with an endless number of restaurants. If you don't reach out to your local target, it will prevent you from addressing the right people and makes it very difficult to position your business, since you have to face excessive competition.
On the other hand, when you change the SEO strategy and focus it on Local SEO, your search engine positioning changes radically.
To achieve good positioning in the local SERPs it's necessary to focus on the keywords and content of our website, as well as SEO Off-Page, and optimize your content for Google My Business.
This tool allows us to publish relevant information about our business, such as its location and appearance in Google Maps, hours, photos, and videos of the premises, and even customer opinions.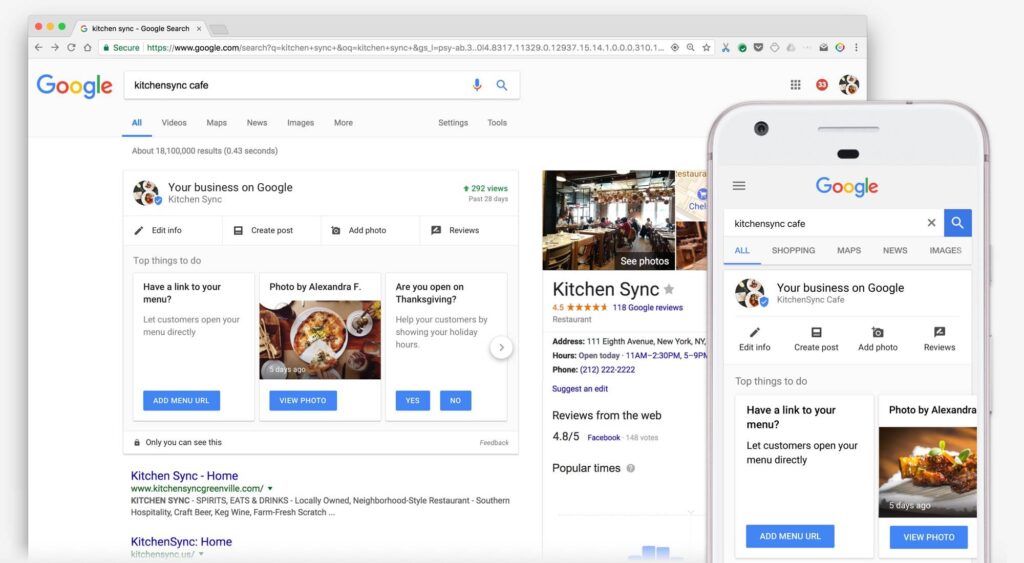 Don't forget to work on your NAP (Name, Address, Phone) and make sure it appears on any website where the name of your business appears, starting with your own website, followed by social media platforms such as Facebook, Twitter, and Instagram.
7. SEO Off-Page
Much has been said and studied about SEO On-Page, but what about Off-Page? A great strategy that makes us gain more visibility on Google, creating external links on other pages that lead to our main website. 
After the Google E-A-T update, Google is looking for expertise, authority, and trustworthiness on our websites. Having referral links from relevant websites denotes to Google about the trustworthiness and authority of our sites.
You can start Link Building by different techniques like guest posting, having a blog referred to your website, be active on social platforms, or simply sharing content.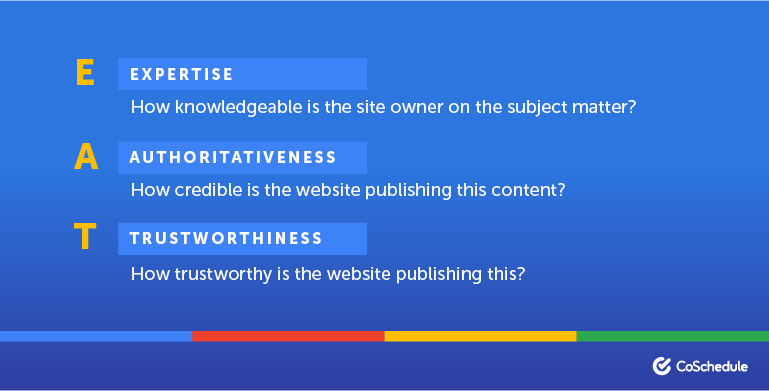 As SEO factors keep changing every year, your website needs to be updated for those changes too. If it is not up to date, your website will be removed from Google search results just like that.
SEO Off-Page will continue to be an important trend when it comes to providing notoriety and authority to a page, but now, quality is prioritized over quantity.
The design and application of backlinking strategies have to come from or head to quality links on relevant websites that help better the positioning of our page.
8. Video Format
Video content gets ranked 50% better than plain text webpage with no interactive content, while 63% of Google searched include videos.
Among this wide and constant growth, the pioneers are networks such as YouTube and TikTok. Perhaps that is why videos will have a greater role in 2021, with the aim of capturing the first search results.
Video content keeps on being the best format for SEO, in addition to being the best type of content that attracts more traffic and generates a greater conversion rate.
Moreover, images will continue to be just as important, but videos must be optimized with keywords both in their title and description or in the channel in which they are published.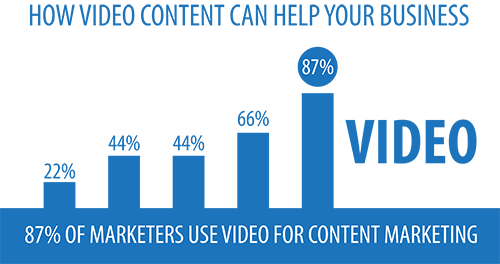 So, it is clear that video is the preferred format for users to consume content. If we still do not have a channel we should consider opening one and starting to generate content for it.
Make sure the channel name and description are optimized. And, before uploading your video keep in mind basic SEO actions like including said keywords, making long videos, as they rank higher than shorter ones, with an attractive thumbnail image.
Don't forget to encourage users to interact with the video or channel, invite them to share the video with their friends and contacts.
9. HTTPS
(SSL Certificate)
There are still some pages that have not adapted to the HTTPS (HyperText Transfer Protocol Secure) protocol, which certifies that the web is legitimate and maintains the privacy of its users' data.
The absence of this protocol will affect SEO positioning and security problem for our website. When a user tries to access a site with the old HTTP, they will be approached by a message informing them that the site is not secure, which will turn users back in most cases.

One of the biggest issues of not incorporating the Secure protocol is causing a high bounce rate and very low dwell time average, which in SEO levels is translated into a guarantee of penalty, and heavy losses on traffic.
To make sure you made the change correctly, check the sitemaps and the redirection of the HTTP protocol to HTTPS, as well as informing Google of the change through the Search Console, so they can follow its evolution.
10. Quality Content
It has been crucial for the longest time, but its importance will increase in 2021. Apart from being the main axis of any inbound marketing strategy, the quality of the content is vital for the Google EAT, as mentioned before, which will determine our greater or lesser relevance in the SERPs.
Quality content is essential to rank high in search engines. This implies creating relevant content and answering frequently asked questions or topics of interest to our potential customers.
In addition, if the content is long, it will help improve our SERP results. Long reads, from 3000 words obtain three times more traffic. Focus on writing long content but that still feels relevant and interesting to your readers, so you can achieve the top rankings.
To do that, it's important to add heading and subheadings (H2 and H3), of high importance for mobile phone content optimization.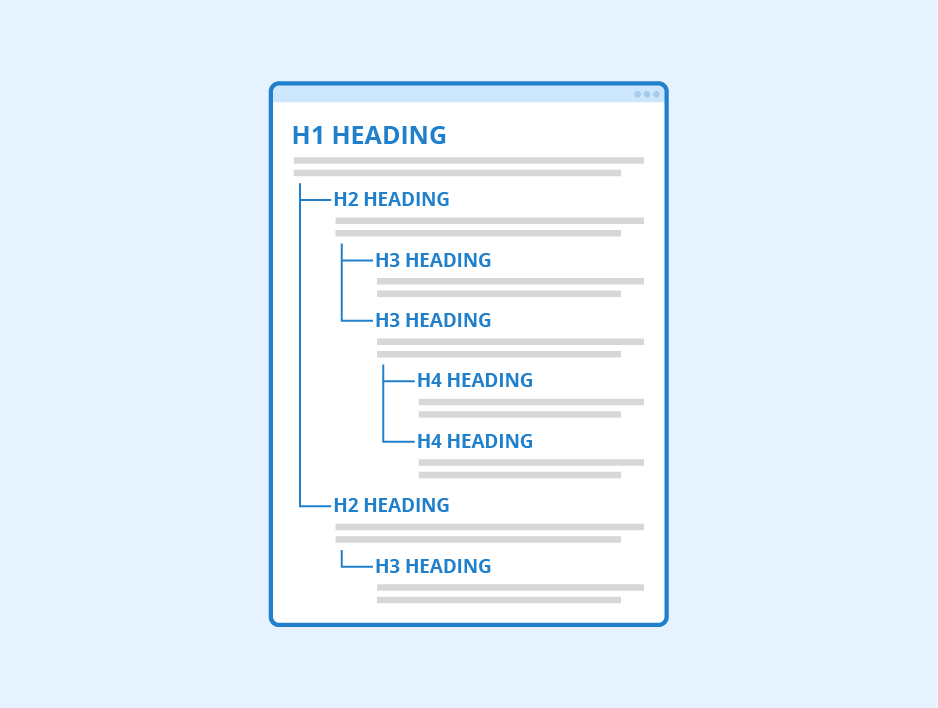 Conclusion
The complexity surrounding SEO and positioning is becoming more complex every year, it's moving away from the simplicity of only optimizing text, adding keywords, and meta titles.
In the current SEO trends and during 2021, we will have to think about topics that range from voice control to the positioning of our videos. The web positioning as we know it is disappearing, carried by the constant change in customers' behavior and technology.
These SEO trends are a hint of what the future holds and the beginning of a new chapter in human communication, where it all comes down to the user and their needs.