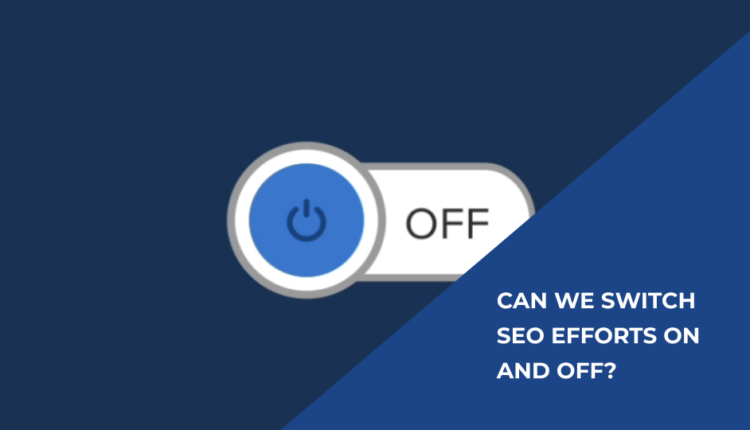 Can We Switch Our SEO Efforts On and Off?
SEO efforts are a continued task that can not be switched on and off and needs constant maintenance.
One of the biggest and most common mistakes in digital strategies is to consider SEO as a unique and individual task. While there are several aspects that can remain unchanged for a long time, most of the work must be constant.
SEO efforts must be maintained and continuously optimized, depending on how the market changes. Being visible online marks the line between being successful or not among targeted audiences.
But, because of the current times, companies are facing a lot of challenges, and their income decreases. This leads to cutting off their budget from direct marketing areas such as SEO, waiting until times get better.
However, as a business, you cannot step back from SEO. If you do, and your score drops, scaling up to the place you were, will take not only time but it will affect your customers' loyalty too.
Scaling back is not an option
It is important that, especially during these times, your business stays around and has an online presence or they may never come back.
So, if you want your business to survive the turbulent water of the market and competition, you must establish a continuous optimization process and maintenance of your SEO strategy.
Once you see that SEO is an investment and your greatest ally to generate traffic, the first results will follow. And if you are improving your search engine positioning, you are aware of how long it has taken to achieve it and that you are on the right track.
Therefore, you must consolidate these results and seek primary and secondary objectives with active maintenance of the SEO service.
Initially, SEO results might take longer to show depending on the effectiveness and indexing processes of crawlers. But, the continuous and non-stop work that is developed is what will make your site take off. This is because search engines want to make sure that your business is serious and long-term oriented.
It can happen that you have done an impeccable job of optimization and hardly get visible results. And suddenly, one fine day, your positioning skyrockets, simply having continued with constant work.
You didn't do anything different, you simply dedicated a lot of time and work to your SEO optimization and provided your users with the best possible experience. And for that long, hard work, Google rewarded you.
However, things don't stop here. Your rank can plummet just as soon as it grew. So, from now on, you must dedicate yourself to maintain it and continue to improve it, otherwise, you'll lose all the work done.
Don't lose focus on SEO strategies
SEO benefits go further than appearing in the top positions. Optimization has a magnitude of benefits like boosting your brand awareness, attract leads, and increase your business'credibility. Basically, it has a direct impact on the success of your marketing strategy, both online and offline, since your website (which has to be useful to both users and search engines) is the digital showcase for your products or services.
After managing your plan of action correctly and using the right SEO techniques, you will also see a higher return on investment. This is because SEO is a long-term digital marketing strategy that requires little financial commitment, but has significant turnover potential.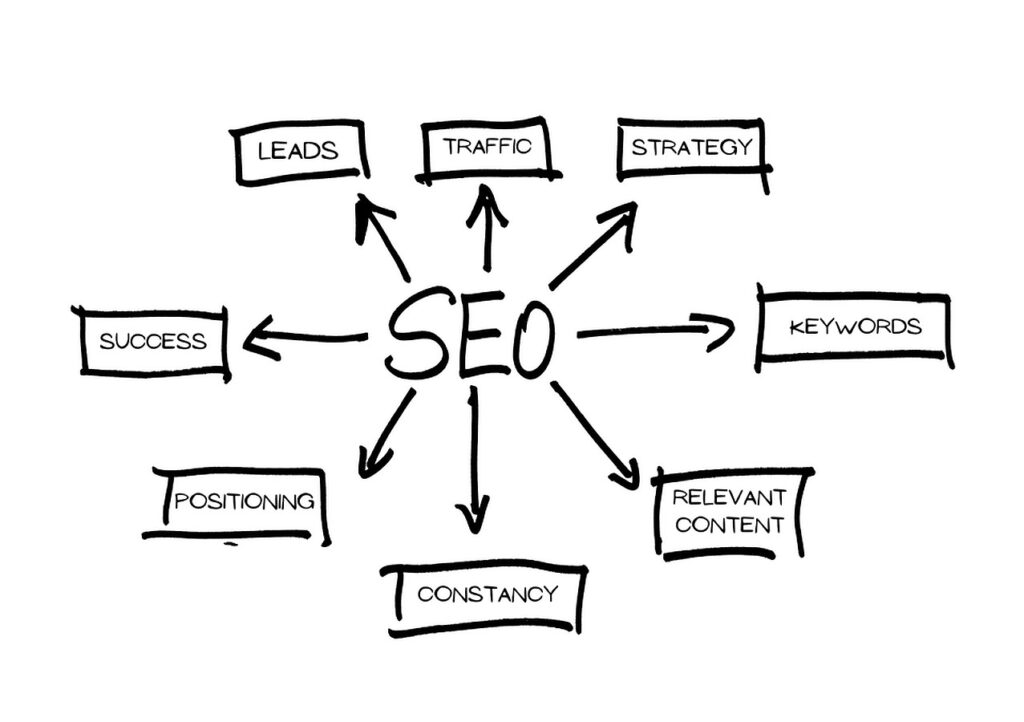 Basically, if you manage to have good positioning, periodically upload optimized content to the web, and carry out your SEO maintenance plan, your traffic will increase, taking away competitors' positions and boosting your own revenue.
Use keywords for better execution
A proper site positioning will be achieved by carrying out keyword planning and research, to detect all the terms that your customers (whose behavior is constantly changing) use to search products and services.
There are plenty of tools you could be used to improve your rankings, but none of them work if you don't focus on your target's needs and expectations.
Using the right keywords and the right amount is closely linked to better performance of the content marketing campaign since it allows you to work with many keywords, use different platforms and content formats.
To create content relevant for the search engines you need to consider different factors such as the authority of your site and its relevance, is the relationship that exists between the content searched with the content found, and correctly define your meta tags.
Create valuable, creative, and original content that serves your users. Consider the needs of your target and give them a pleasant experience.
Content creation equals trust and relevancy
Nowadays, companies have cut down content production, they don't optimize… shutting off their efforts. Even though there is no new content being created, sites are still receiving traffic.
So the company abandons marketing strategies and website promotion, as you think leads will come looking for you again. But the reality is very different.
Stay around
You need to make sure your online presence is still on and functioning, user experience, and emotions make their way to ensure your business is still kicking.
What makes a company big and profitable? Having active users and clients. How do you build loyalty? Making sure they feel heard, safe, and part of a community.
Build sympathy
As a company trust and empathy should be a top priority because being realistic and telling your story will ensure your users will come back to you.
Trying new things is part of any company's growth. And most companies lack in being human, take this weakness of your competition and make It your strength.
Build a community that is going to come back to your site, will be active and will share your content, therefore, your traffic is going to be higher than your competitors and your positioning will escalate.
Be innovative and updated
If your business is struggling to stay relevant and afloat during bad times, think out of the box, be innovative. If the implemented strategy has not worked out and you're losing clients and money, try new things. Either way, people tend to be more forgiving during this time.
Digital marketing is a dynamic sector. The techniques to attract and retain customers are always in constant evolution, everyday new challenges or trends will pop up. Because of that, one must be under alert of the latest news and SEO techniques to adapt to each business.
It is no longer valid for three days of training on SEO, personal formation must be continuous so one is always up to date and one step ahead of competitors.
The rise of voice search
Take the example of voice search, the proliferation of virtual assistants such as Siri and Google's voice assistant is causing an important change in the way Internet users to interact with the digital medium.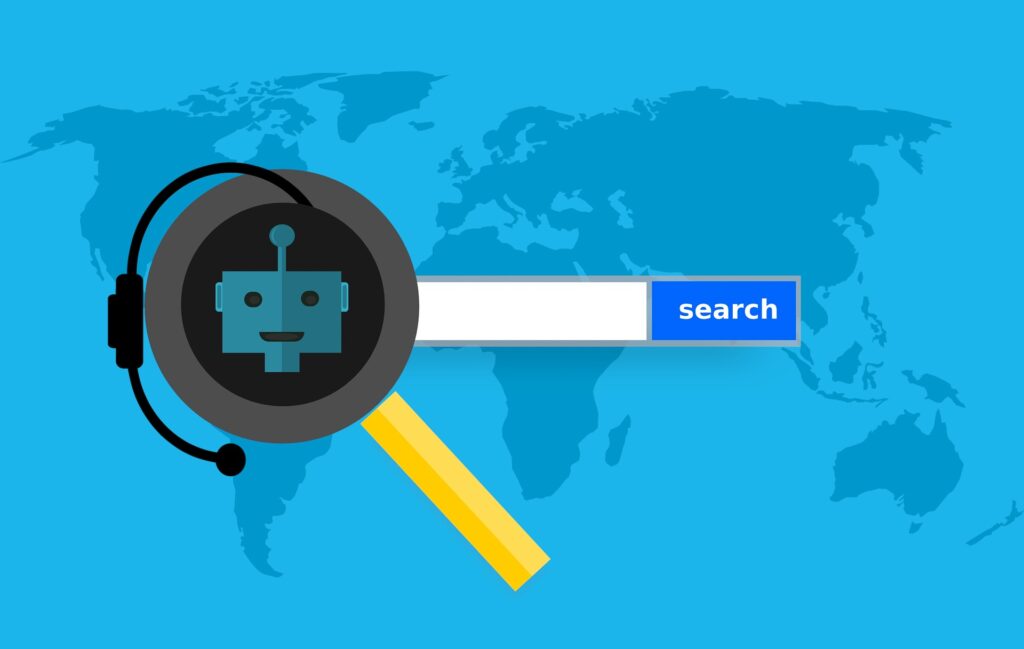 The number of voice searches is boosting day by day and you must be able to adapt your content to this rising market.
Conclusion
SEO does not have an on/off switch. Search engines are crucial and continuous improvements that help companies to stay relevant and competitive at all levels. If the process is not ongoing all the hard work will be lost and will battle to scale back.
To preserve your page rankings, you need to assure a well-maintained SEO campaign that is prepared to survive a crisis and ready for change. Also, remember to be human, a business that doesn't feed the needs and satisfy their customers is a business ready to touch bottom.
Maintain your online presence, don't cut back on your direct marketing strategies, be realistic, stay relevant to your clients, and empathize with them. Work for growth.